2017 & 2018 US Stocks Wheat by Class
Oct 11, 4:26 pm
|
Wheat
|
Share this: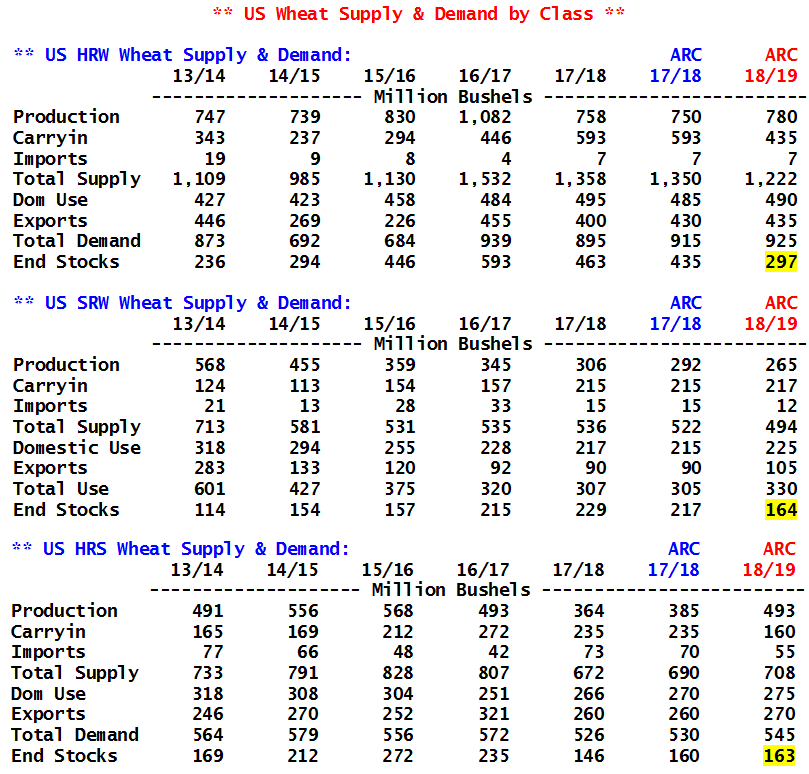 Minor changes to 17/18 by-class US wheat balance sheets following NASS's production and stocks reports in late September. Winter wheat production was lowered, spring wheat production was raised, and total wheat feed use will be down slightly in this week's WASDE. ARC also projects HRW exports 30 Mil Bu above the USDA amid the loss of surpluses in Argentina and Australia.
  The tables above also highlight how important carryover stocks are for balance sheets moving forward. Slowly, the US wheat balance sheet is tightening, and the loss of buffer stocks will trigger yet another correction in 2018 barring perfect/near perfect weather.
  ARC projects combined HRS (+.9), HRW (+.4) and SRW (-.3) acres will rise 1 Mil in 18/19. The balance sheets above otherwise assume normal abandonment, trend yield and trend consumption growth. Winter wheat stocks will fall sharply, and HRS stocks will be little changed despite a much larger crop.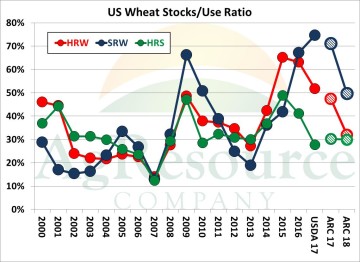 Assuming higher area and trend yield, spring wheat production will be up over 100 Mil Bu, but amid much lower carryin supplies, rebuilding the HRS balance sheet will be a multi-year affair.
  The graphic at left shows current and projected US wheat stock/use by class. HRW stocks look to fully correct from the surge in 2014-2016 by next year, HRS stocks will be adequate but not abundant, and overall ARC maintains that a multi-year bottom in wheat prices was posted in 2016. The balance sheets above suggest KC futures should build a modest premium over CME contracts over time. We simply doubt this year's rather brief (4 week) rally was enough to materially affect winter wheat seeding plans, and we note that cash prices across the Plains exceeded $4.75/Bu for just a week. 
 US all wheat stocks in 2018, assuming trend yield, are likely to exist in a range of 770-850 Mil, down 335-415 Mil (30-35%) from 2016's peak. It's not the time to become bearish of wheat.