Cattle Called Mixed Awaiting Cash Trade; Central US Weather Warm for 2 Weeks
** AgResource Daily Cattle Analysis: Cattle futures closed lightly mixed on Wednesday, and a steady outlook is offered for early trade this morning. December cattle were slightly lower at Wednesday's open, and then found resistance above Tuesday's high. Feeder futures have often been the leading market in the cattle trade in the last year, and were mostly lower through Wednesday's trade.
  Cash markets went untraded through midweek, and a firm outlook remains in place heading into the last half of the week. The Fed Cattle Exchange auction had no sales, with cattle passed out from $110-110.75. Elsewhere in the Plains cattle markets, bids were quoted at $108 while cattle were offered for sales $113 or better. The CME at Wednesday's close was leaning in favor of feedlots.
  Beef cutout values were lower with the choice cutout was down $1.08 at $196.32 and select was off $1.26 at $188.76 on light to moderate demand and moderate to heavy offerings.
  The CME this week continues to suggest even higher prices into the end of the year, even as production rates reach record levels. The USDA will update S&D and price forecasts later this morning, though the CME is trading above the September forecast average for the 4th quarter.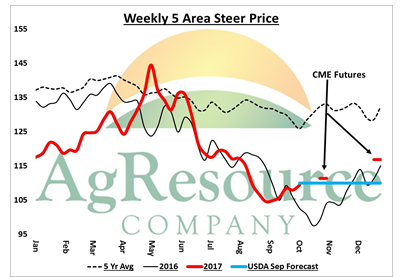 ** US Weather Pattern Discussion: The US and European weather models are in fair agreement on the overall US weather pattern for the next 10 days. The US model has a little more Trough across the Eastern US nearby, but otherwise, this is a warm and drier than normal upper air flow, as demonstrated by the EU model rainfall map that is attached. Both models continue to suggest that wetter/cooler weather will be offered in the extended 12-15 day period as a strong Gulf of Alaska Trough sends frequent storm systems into the PNW. These storms could impact the N Plains and W Midwest in fast west to east zonal upper air flow. The Lakes States will see a few harvest disruptions, but the pattern will maintain a mostly favorable outlook for harvest.
  And there is a history that super warm September/October's point to a mild start of winter. In the years of record or near record warm autumns across the Central US, that warming continued into the first part of winter. With the snows piling up across NW Asia, we see no reason why the Central US should not hold in a continued warmer than normal temperature pattern.
** US 10 Day Rainfall Forecast: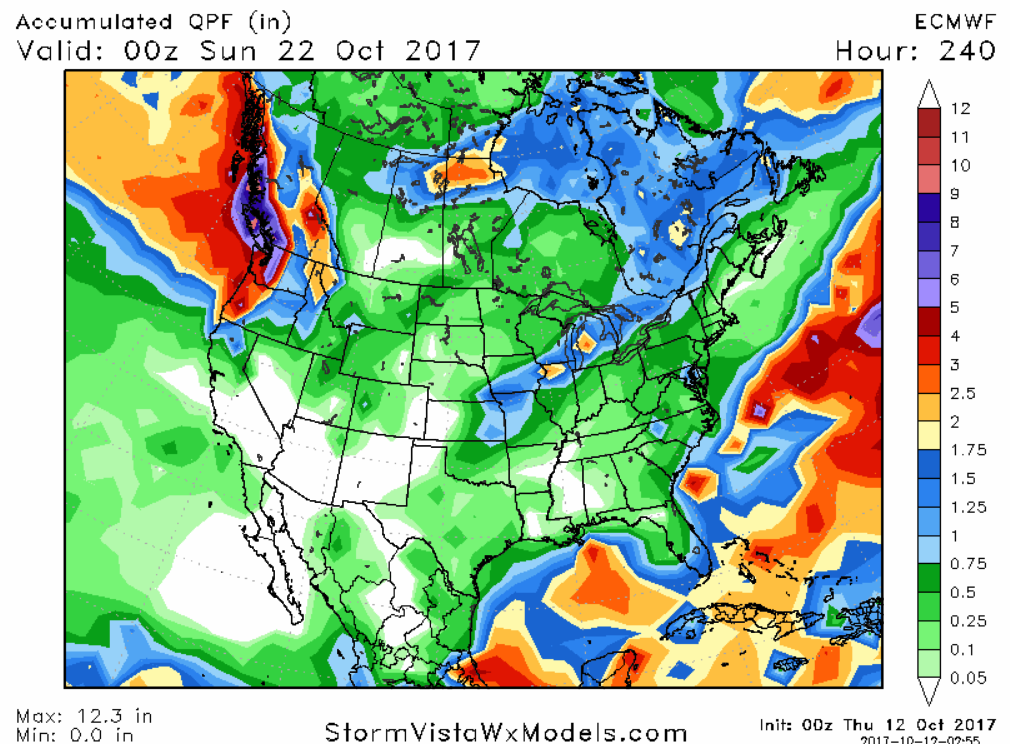 ** 15 Day North America Temperature Anomaly: