CBOT Soybeans Soar On USDA Yield Data; Corn/Wheat Try to Follow
** The morning has been dull with the grains lower while soybeans trade either side of unchanged. The market is preparing for a bearish October USDA Crop Report on Thursday with the US corn and soybean yield likely to increase, while WASDE raises their Russian wheat crop estimate by another 2-4 MMTs to 183-185 MMTs. Few traders see any reason to be bullish into the report, but fund managers all want to be on the buy side of the market if the report is bearish. Thus, like always, it will be the post report reaction that will be important! If there is a report surprise, it would be a smaller US corn or soybean yield, and lower 2017/18 stocks.
 ** CBOT floor brokers report that funds have sold 4-5,000 contracts of corn and 4,000 contracts of wheat, while buying 800 contracts of soybeans. In soy products, funds have bought 1,000 contracts of soybeans and 1,500 contracts of soyoil. The CBOT has a bearish feel at midday, led by the weakness of the grains. ARC estimates that funds are back holding a short corn position of 155,000 contracts of corn and 68,000 contracts of Chi wheat.
As the graph below reflects, US corn ear weights were the 4th largest on record with corn ear numbers the 3rd largest on record in the 10 objective states. There is a good chance of a further gain in the US corn yield in November with US corn production the 2nd largest on record. NASS indicated that they had harvested just 51% of their objective corn plots, compared to 73% last year. This is the lowest NASS corn harvest pace since 2013.
** The 2017 October soybean yield of 49.5 BPA was down .4 BPA from September. The IA, IL, and MN soybean yields were all down 1.0 BPA (each) with OH and KS yields down 2 BPA at 52.0 BPA & 41 BPA, respectfully.  There is a strong historical case to be made for a further decline in the US soy yield in November based on the trend from September into October. ARC notes that NASS has harvested 49% of their objective soybean plots, compared to 53% last year.   
  Further yield reductions are expected in the more Northern Lake States. A final US soybean yield at or slightly below 49 BPA appears likely. The NASS data will likely place a shelf of support under $9.50 in nearby soybean futures until the S American harvest.
** The US soybean yield chart below reflects a reduction pod weight for October of .335 grams per 18 sq ft from .34 in September. Pod counts were only up marginally from September.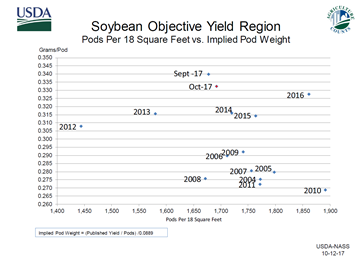 ** 2017 world what production was a record at 751 MMTs, up 7 MMTs from September. The Argentine crop was raised 1 MMTs last year, while the Russian wheat crop was increased 1.0 MMTs to a record 82.0 MMTs. Russian wheat exports were left unchanged at 32.5 MMTs on logistical constraints. World wheat stocks were raised 5 MMTs to a record large 268 MMTs, which does not offer a bullish landscape for world wheat prices. However, 127 MMTs of these stocks reside in China are not not available to world end users. The wheat data was viewed as bearish.
 ** AgResource Market Comment: The October NASS report confirms that seasonal lows have been scored in soybeans amid reduced 2017/18 stocks. However, the grains will struggle on rally amid ample supplies. March corn has solid resistance above $3.70 while rallies in Mar Chi wheat will be capped at $3.70. Use sharp breaks to buy beans and sell corn on rallies.