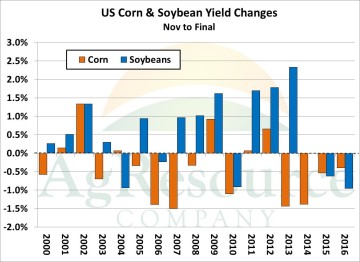 NASS still has one report left to fine tune US 2017 US row crop production,  major changes are unlikely. A corn yield above 170 (to say nothing about record yield) has been a surprise, but in January ARC expects yield to be maintained at 175, give or take fractions of a bushel. The adjacent graphic shows changes in corn & soybeans yields from Nov to Jan since 2000, it's been rare for yields to change by more than 1.5%. In fact, since 1980, yield adjustments of just 1% or less catch a majority of NASS's final report estimates. Even a yield change of 1.5% would imply corn yield up or down 2.5 Bu/acre, and a bean yield change worth just 0.7 Bu/acre – the point being production has more or less is finalized! Major balance sheet changes now hinge upon demand and thus, South American weather.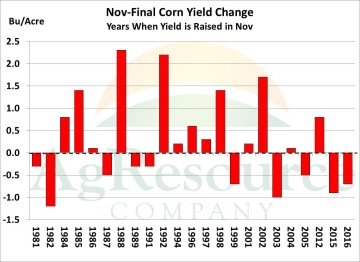 November report, these trends are less pronounced. The graphic below highlights Nov-Jan corn yield changes, isolating years in which corn yield was raised in November. In 13 of the 23 years corn yield was raised in Nov since 1980, 13 of those years included yet another yield in hike in January. So there are decent – but not great odds that yield will be pushed still higher, though notice that the January corn yield is adjusted by only 0.25-1.0 Bu/acre, which in 2017 would only add or subtract 40-80 Mil Bu to/from the US balance sheet. Such an adjustment would be meaningless for prices.
  More importantly, following the USDA's Nov report, trend yield in 2018 is calculated at 173 Bu/Acre, which itself would be the third highest on record if realized. Larger demand is now needed.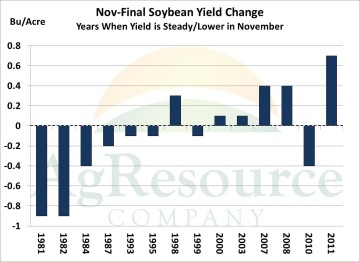 US soybean yield has been trending lower since September. The graphic below isolates soybean yield changes from Nov to Jan in years that yield was steady to lower in November. Like corn, there's not a compelling trend in yield changes from Nov to January. In 8 of the 14 years, yield was steady to lower in November, it was lowered again in January. But even in extreme years, bean yield was lowered by only 0.9 Bu/acre.
 More likely, NASS will lower soybean yield by fractions of a bushel, and amid a slowdown in export sales this shouldn't materially affect the overall US balance sheet.
  Trend soybean yield in 2018 is pegged at 48.2 Bu/Acre, and so a further build in US end stocks will be a function of either record South American production or larger US planted acreage. Soybean's premium to corn will stay elevated into spring based on China's elevated import pace.