Red Warning Flags for South American Weather to Firm CBOT Prices in new week
** AgResource Pre Opening Sunday Market Calls: Soybeans 2-5 cents higher, corn and wheat 1-2 cents higher.   
 ** Sunday Weather & Market Comment Discussion: CBOT opening week calls are higher on disappointing weekend rainfall across Argentina and S Brazil and a more threatening forecast. Weekend rain totals were mostly in a range of .1-.45" across Argentina and S Brazil with just 2 stations reporting rainfall  in excess of 1.00". Since the start of the growing season back in mid October (see map), a persistent dry weather trend has engulfed the crop areas of Argentina and RGDS in Southern Brazil. The arid weather looks to worsen over the next 2 weeks with the introduction of heat (mid 90's to lower 100's) for Argentina this weekend and next week. The market will add weather premium to price. 
** October 15- December 15th % of Normal Rain **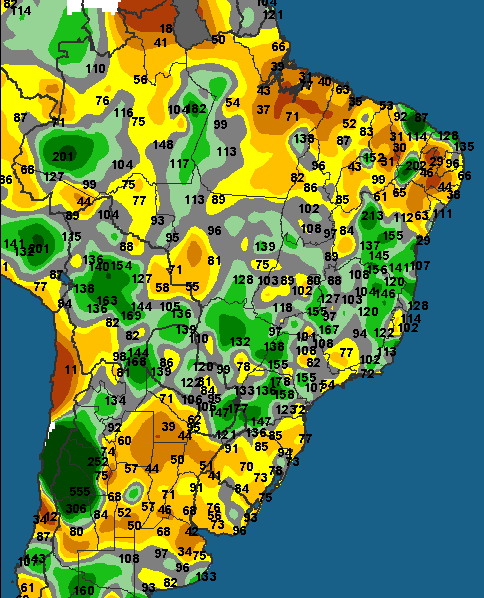 Friday's CoT report showed that managed funds are short 123,000 contracts of Chi wheat (up 14,000), short 197,000 corn (down 13,000), and long 32,000 contracts of soybeans (up 12,000 contracts). Funds are long 26,000 soyoil (down 21,000) and long 39,000 soymeal (up 24,000 contracts).
The USDA December Crop report is out a week from Tuesday on December 12th. WASDE may be loath to cut US corn and soybean exports if they feel adverse weather will strike 2018 South American crop yields.   
** South American Weather Pattern Discussion: The US and EU weather models are in good agreement. The 10 day GFS Model rainfall forecast for S American reflects limited rain for most of Argentina and S Brazil. In fact, the best rain chances are in the next 18 hours as a cool front pushes to the northward. This front should produce traces to .35". Thereafter, limited rain and warming temperatures will be featured. The attached map features the cone of drying soils for Argentina and S Brazil. And with time, we fear that Parana could be pulled into the dry trend. High temps this week will range from the 80's to lower 90's with heat noted on the weekend and next week with highs in the 90's to lower 100s.  
** GFS 10 Day Rainfall Forecast: 
** Week 2 Temperature Deviation Forecast: 
** CBOT Market Discussion: Prices will be higher this evening as the market adds premium for La Nina and potential South American crop losses. Corn should break its 50 day moving average for the 1st time since July 25th at $3.6025 Mar. January soybeans should open near or above $10.00 on fresh fund demand with the wheat market in tow.  The extended range forecast models maintain the dry/warm weather trend for Argentina and S Brazil into late December.  Argentine corn pollination will be starting in late December and high temps could pose a risk.