Afternoon Weather Update
Dec 6, 4:55 pm
|
Weather
|
Share this:
South American Forecast Trending Warmer in Argentina: There are hints that a briefly wetter pattern may evolve in Argentina beyond the next 9-10 days, but until this is pulled forward our confidence in such a shift will remain low. In the meantime the pattern looks to be rather stagnant, with favorable rainfall ongoing in Central & Northern Brazil, but with ongoing dryness and rising temps expected in S Brazil and the whole of Argentina. The GFS model's projected 7-day change in soil moisture is at left. Noticeable draws are implied in NE Argentina and S Brazil, which is a large first-crop corn producing area.
  The alignment of S America's jet stream into late next week will be such that meaningful rain will be blocked from much of Argentina and S Brazil. Scattered showers will at times occur, but totals in excess of .10-.25" are not expected. High temps in Argentina will reach into the 90s, with some models featuring highs in the low 100s, and a much wetter pattern is desired – and quickly.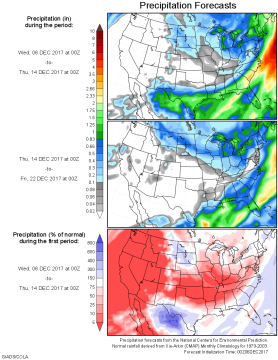 US Forecast Stays Dry through End of Dec: Week 1 (top) and week 2 precip is displayed at left, and clearly a pattern change is unlikely into December 20-21. The forecast still lacks any sustained bitterly cold temp readings, but a further slight drawdown in soil moisture lies ahead.
  A deep low pressure Trough will be anchored aloft Southeastern Canada & the Upper Great Lakes Regions throughout the next two weeks. This stagnant Ridge/Trough pattern will allow for ongoing normal/above normal temps across much of the Plains. A cooler bias will be maintained across the Midwest and far Eastern US. Very little rain/snow is offered to any region through the period, and a pattern shift thereafter is unlikely.
  This evening's 16-20 day outlook includes high odds of below normal precip across the Southern Plains. And while moisture demands are limited, the trend in soil moisture needs close watching.