World Barley Supply & Demand
Nov 7, 4:57 pm
|
Corn
|
Share this: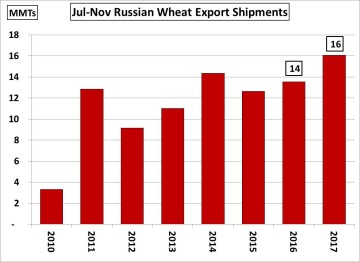 Using ship lineup data, AgResource estimates Russian wheat exports through the end of November at 16 MMTs, a record and up 2 MMTs from last year. ARC has mentioned in recent weeks that abnormal warmth has been prolonged in key areas of Southern Russia, and the forecast into late month maintains a lack of sustained freezing temps there. This will further aid Black Sea logistics, and Russian wheat shipments through the end of Dec may reach 19.4 MMTs, vs. 16 MMTs last year.
  Exporters have been rushing to maximize wheat exports ahead of winter, and there's also evidence that exporters in 2018 will prioritize wheat over corn & barley. Contrary to prior expectations, final Russian wheat exports in 17/18 may in fact hit 34-35 MMTS. The previous record, set last year, is 28 MMTs.
  Australian barley yield in 17/18 is down 40% from last year, and its crop has been cut to 8 MMTs, down 5.4 MMTs from last year and the lowest since 2012. Combined US & Canadian barley production is down 2.8 MMTs to a record low 10.3 MMTs. And so any slowdown in Black Sea shipments will further exacerbate tightness in this year's global barley balance sheet.
  While wheat and corn prices struggle in narrow, unexciting ranges, the world barley market has exploded. Black Sea barley for spot delivery is now offered above Black Sea milling wheat, basis fob, and ARC doubts lasting highs in barley prices have yet been scored. There's no room for any further barley supply dislocation, and the goal of the market now is secure additional acreage in 2018/19 – and several million additional acres are needed to stabilize supply & demand.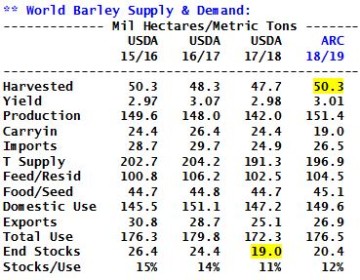 Should global barley acreage not expand in 2018, and assuming trend yield and trend consumption, our work suggests barley consumption would again fall 5-6 MMTs shy of domestic use. End stocks would rest at a nearly untenable 11-12 MMTs. Rather, some 2.5-2.7 Mil HAs (6 Mil Acres) are needed to keep end stocks stable. Even then the barley market will remain rather tight, and so we doubt a bearish pattern is lesser feedgrain prices is imminent.
  World barley seedings have declined over the last three years, and like oats, finally the market has reached the point at which any further loss could spell real trouble. Unlike corn and wheat, barley, sorghum & oats carryover stocks are not abundant, which places a heavier burden on acreage and weather. A bearish outlook is not advised in barley, sorghum or oats, and as such downside risk in corn is limited.