Afternoon Weather Update
Feb 13, 2:06 pm
|
Weather
|
Share this:
Argentina Slightly Wetter in North; Primary Crop Belt Too Dry: There's again no change in South America's weather pattern through the balance of February. The EU & GFS models are slightly wetter in far Northern Argentina, but a vast majority of Argentina's corn/soy belt will little to no moisture. The GFS's 7-day forecast is at left. Some 75% of crop producing areas is highlighted.
  The ongoing lack of soil moisture will also work to sustain temps at or above average in Central Argentina. Highs in Cordoba and Santa Fe into the weekend will reach into the low/mid-90s, and there's general agreement that highs will continue in the upper 80s/low 90s indefinitely. Seasonal conditions will persist in Brazil, where crop size is inching higher. And notice that NE Brazil will be mostly dry over the next several days, thus allowing harvest to gain speed.
  However, the issue for the market is the extent that yields fall below trend in Argentina, and we fear that losses will match previous drought/La Nina years – in which yields are typically 15-25% below trend.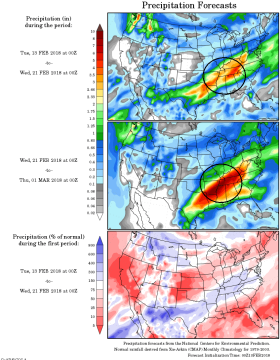 Central US Forecast Wetter across South: The Central US forecast is trending much wetter across the Delta/Southeast & mid-South, which will ease short term dryness there and provide some relief to southern corn producers, who look to start planting in the next few weeks. The GFS model's week 1 (top) and week 2 forecast is attached, and should the model verify it's possible that total accumulation in LA, AR, MS, TN and KY will exceed 5-7". The US Drought Monitor in recent weeks has featured severe to extreme drought conditions in AR, LA and large swath of MS, AL & GA. Coming moisture will no doubt be welcomed.
  Otherwise, a stagnant pattern of dryness will persist across the Plains as Arctic Air remains anchored aloft Canada and the Northern US. The 16-30 day forecast offers hints of more normal rainfall there, but until this shift appears in the 10-day forecast confidence in its arrival will stay low. La Nina looks to hang around till at least April.