AgResource Analysis of the March WASDE Report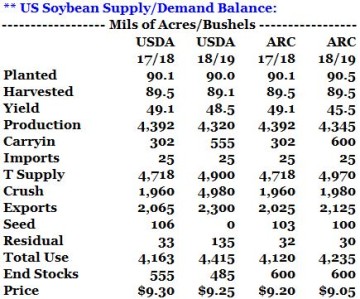 The March WASDE report is typically not a much of an event, but following a strong rally through February, today's report garnered a more volatile response in the trade. Soybeans broke at the release due to smaller exports and larger ending stocks figures, but were back near unchanged at the close. The USDA raised their crush estimate by 10 Mil Bu to 1,960 million, and lowered the export forecast by 35 Mil Bu to 2,065 million. Ending stocks increased by 25 Mil Bu to 555 million, and the range for the season average price narrowed by a dime, to $9-9.60/bu, though the midpoint of $9.30 was unchanged. The reaction price break found good demand, as the trade looked past the USDA's estimates for S America, where the USDA made only modest cuts to Argentina's soybean and soymeal exports. Crops continue to roll backwards, and exportable supplies remain in strong (farmer) hands.  
In the soy product balance sheets, production for soybean meal and soybean oil was increased by the higher crush rate forecast. Soymeal exports were increased by 200,000 short tons to 12.4 Mil tons, which absorbed all of the additional supply. In the soyoil balance sheet, the production forecast was increased by 115 Mil Lbs. The big surprise was that biodiesel demand was lowered by 300 Mil Lbs. The USDA had increased the estimate to 7,500 Mil Lbs back in December as the US import rate was set to decline, but soybean oil use has not kept up with the larger production totals, as producers have increased use of other feed stocks. However, the March forecast is still 1 Bil Lbs (16%) larger than last year, and total domestic soyoil use is expected to be record large at 21 Bil Lbs.
In the South American estimates, the USDA raised their estimate for Brazilian production to 113 MMTs (+1 from Feb) versus 114 MMTs last year. The Argentine crop estimate was lowered 7 MMTs to 47 MMTs and was generally in line with expectations. However, it's worth noting that in the 2008/09 crop, the full impact of the drought was not realized in the USDA's figure until June. The soymeal export forecast was down just 1% from February, but still the 2nd largest on record, and the USDA expects that Argentina will make up 46% of total world soymeal trade. The world remains heavily dependent on Argentine supplies.  
  However, the crop continues to roll back, and the BAGE's weekly crop report showed that 79% of the crop was rated as poor/very poor versus 76% last week, while 87% of the soybean crop's soil moisture was rated as dry/poor. 74% of the crop was setting pods and 10% was rated as mature. The Exchange also lowered their crop production forecast by another 2 MMTs to 42 million – or 15.5 MMTs less than a year ago.
The USDA's again provided a bullish spark to the corn market via enlarged exports, which were raised a hefty 175 Mil Bu from its February report. And the USDA's export forecast is still likely too low amid further crop loss expected in South America and amid the US's favorable position in the world feedgrain market. Gulf basis has rallied to meet Argentine offers, but US origin corn still holds a sizeable discount to feed wheat and barley, and Brazilian corn exports won't begin in earnest until late summer. Weekly export sales this AM totaled a 3-week high 73 Mil Bu.
  Recall US corn end stocks were pegged at 2.5 Bil Bu in the USDA's November report. Now old crop stocks are projected near 2.0 Bil Bu, which implied new crop stocks falling to 1.7-1.8 Bil. The US corn balance sheet has tightened quickly, and above-trend new crop yields are needed to pull spot futures below $3.60-3.70 this summer.
The price risk in corn is up.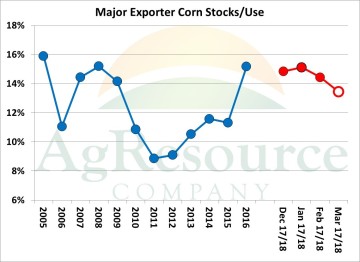 Combined Argentine/Brazilian production is pegged at 130.5 MMTS, down 3.5 from February and down 9 MMTs from a year ago. ARC's work suggests the USDA's Argentine forecast is still high by some 3-6 MMTs, and even its Brazilian forecasts is coming under scrutiny. The USDA estimates Brazil's total crop at 94.5 MMTs while CONAB since late 2017 has been steadily reduced acreage, and as of this morning estimates the crop there at 87.3 MMTs, down a full 10.5 MMTs from last year. Additional export demand is on its way to the US. Major exporter stocks/use – perhaps the biggest driver of price discovery – has fallen to 13%, vs. 14% in Feb and 15% in 2016/17. Further declines lie in the offing and, overall, the market's burden lies with the bears, at least into early summer as extreme drought is firmly established across TD, OK, KS and CO. These states accounted for nearly 10% of US corn production in 16/17.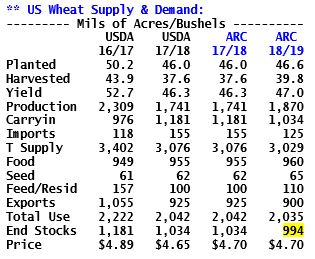 The USDA's US wheat balance found more supply which along with a slight upward revision to world wheat stocks termed the report as slightly bearish.
  US 2017/18 wheat exports were lowered 25 Mil Bu amid a string of poor weekly export sales as the Gulf is priced out of the world market entirely through June. US old crop wheat end stocks were lifted 25 Mil to 1,034 Mil. Unlike corn, the boost in carryover stocks will buffer against new crop yield losses. US HRW demand has been particularly slow since late 2017. However, it's tough to be overly bearish wheat amid a rapidly tightening US corn balance sheet. There's no shortage of wheat currently, nor is the much of a threat to record global wheat stocks assuming relatively normal weather in Europe & the Black Sea. CBOT rallies will be hard fought and a top is due when funds have covered shorts.  
Of the 25 Mil Bu decline in US exports, 15 Mil was taken from the HRW balance sheet and 10 Mil from HRS. HRW production is being most threatened via drought – which this week was upgraded to exceptional in pockets of OK. But as carryover stocks rise the impact of adverse weather will be muted. Old crop HRW end stocks are now forecast at 510 Mil Bu, up 15 from Feb and up 40 Mil from the Dec report. Our preliminary work suggests HRW stocks will be maintained at a comfortable 300-310 Mil Bu even should yield fall 15-20% below trend. Note that US exports will account for just 14% of world trade this year and amid the lack of demand, clients should reward rallies with Sales. Gulf wheat cash prices today are unsustainable without adverse weather in another major exporting country. Seasonal tops are forming as the Plains drought worsens.