Analysis of the USDA's Feb Report
Summary: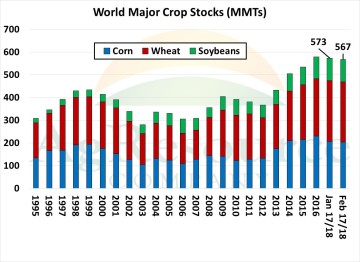 The USDA's February WASDE report was full of new data, which is unusual, and the market's reaction today seemed to make clear weather is and will be center stage for some time. On the margin, today's updates to corn were bullish, while updates to wheat and soy were bearish. But overall, major world crop stocks were cut some 6 MMTs from the January report, and amid ongoing drought in Argentina, and less than expected safrinha corn acreage in Brazil, further cuts lie ahead. The Feb WASDE, like so many before it, again confirmed that nearby supplies are more than abundant, but since 2016 global inventories have retreated just a bit. Particularly as La Nina is forecast to linger into late spring, weather in 2018 will grab more attention than it has in recent years. ARC cautions against chasing strong breaks.
Corn: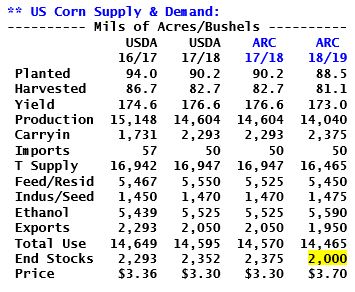 The USDA for the first time in several months provided a bullish shock to the corn market via higher exports. It's been clear that the USDA's forecast was a bit too low, particularly amid falling South American crop size, but the Feb WASDE featured a 125 Mil Bu hike to projected US exports, which was more than expected, and further upward revisions are probable without ideal weather in Central Brazil in April & May. US Gulf corn is still by the world's cheapest feedgrain for delivery into early summer. CONAB lowered its forecast for the Brazilian safrinha crop this morning – the USDA is likely to follow – and the USDA's Argentine crop estimates is viewed as some 2-4 MMTs too high still. US acreage cuts are probable this spring, and notice at left that assuming trend yield end stocks fall to 2,000 Mil Bu. This is not overly bullish, but does suggest the bear market is over.
The US is now projected to account for 34% of total world trade, vs. 32% in a month ago. Should the USDA follow CONAB in its March report, our work indicates that the US's share of world trade could reach 35-36%, at which point 17/18 exports will range between 2,100-2,150 Mil Bu. The boost in US exports, along with today's cut to Argentine production, pulled major exporter stocks/use – a major determiner of world prices – down to 14.4%, vs. 15.1% previously, and using even deeper cuts to Argentina's crop size we estimate major exporter stocks/use at 13.9%. Until it can be confirmed that safrinha yields in Brazil are at or above trend (some time in early summer) we view downside risk as being severely limited. End users should use breaks to extend coverage.       
Wheat: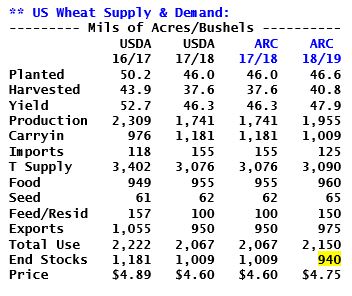 The USDA's change to the US wheat balance was bearish. US exports were lowered to 950 Mil Bu, which was only partially offset by higher food use, and wheat end stokcs are again projected above 1,000 Mil Bu. ARC has no major disagreement with this forecast, but does not that focus in the week's ahead will be more on new crop balance sheet changes, rather than abundant old crop stocks. The table at left assumes normal abandonment and trend yield. If these materialize the US will again be forced to compete with cheaper Black Sea supplies, which is not bearish. But without improvement in soil moisture by mid-April, a national wheat yield closer to 43-44 is most probable, in which case US end stocks fall to 750-775 Mil Bu. Competition for exports then may not be necessary. N Hemisphere weather is key over the next 90 days.
The world wheat market remains stagnant, with global and major exporter stocks/use generally unchanged from the USDA's January report. Old crop inventories worldwide are more than adequate, and the USDA was right in cutting US exports. It'll take a rather expansive weather problem to change the structure of the wheat market, but we do note that assuming trend yield Russia's crop in 18/19 will be closer to 72-73 MMTs, vs. a record 85 in 2017, and massive yield is required to fully replenish Australia's balance sheet next year. The point is that N Hemisphere weather this spring will be a bit more important than in recent years, and we maintain a strategy of only selling strong rallies. Monitoring the duration of this year's La Nina is priority number one.
** USDA Makes Larger Than Expected Cut To Soybean Export Forecast: Soybeans closed 4-5 cents higher following a rather bearish WASDE update. The USDA's latest balance sheet estimates showed a 60 Mil Bu cut to the annual export forecast, which was then added directly to the bottom line carryout estimate. US soybean end stocks were projected at 530 Mil Bu, or nearly 38 Mil Bu over expectations. A quick break at the report release found good demand, as the soymeal market held gains and rallied $5-6/ton on continued concerns for the Argentine crops. The USDA lowered their crop forecast by 2 MMTs to 54 million tons, while the Buenos Aires Grain Exchange cut their crop estimate by 1 MMTs to 50 MMTs. The afternoon EU weather model forecast showed that most of the soybean belt will see less than 1" of rain over the next 10 days. 90 day rainfall totals in the key states of Buenos Aires, Santa Fe, and Cordoba is currently 50-60% of normal.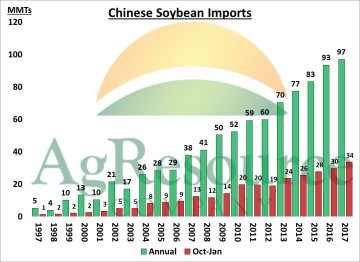 ** Chinese Soybean Imports Record Large Through January: The preliminary Chinese trade data released on Thursday showed a record large January import figure of 9.48 MMTs, down slightly from December but still a record large figure for the month. This puts cumulative soybean imports for the year at 34 MMTs, 4 million ahead of last year and also a record large import pace. Soymeal stock have increased since November, which has pressured crush margins in recent weeks. However, much of this weakness in margins is seasonal. The USDA left their annual import forecast unchanged at 97 MMTs, and the current pace continues to support that forecast. The Chinese New Year starts next Friday, which is expected to slow both cash and CBOT business. But based on current import and crush rates, there is no reason today to disagree with the USDA's forecasts.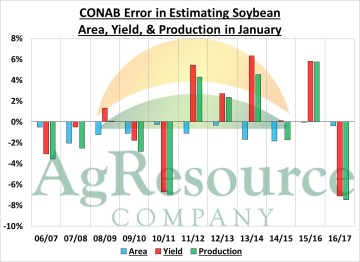 ** Brazilian Soybean Crop Estimates Inline With Expectations: Ahead of the USDA's WASDE report, the Brazilian government's crop forecasting agency CONAB, released their February crop report. CONAB's assessment of the crop showed a slight increase in both area and yield, and the crop size increased from 110.4 MMTs to 111.6, while the USDA increased their own estimate by 2 MMTs to 112 MMTs. The track record of CONAB's February crop estimates is rather mixed. In the last 11 years, CONAB has underestimated total area 100% of the time, though accuracy in the production forecast has largely been determined by yield changes. In the last decade, the February production estimate has been too high in 5 years by an average of 3%, and too low in 6 years by an average of 4%. Last year marked the largest miss on record, when CONAB underestimated both yield and production by more than 7%. Our view is that CONAB is probably much closer this year, and we agree with their crop size forecast of 112 MMTs.