Analysis of the USDA's January Reports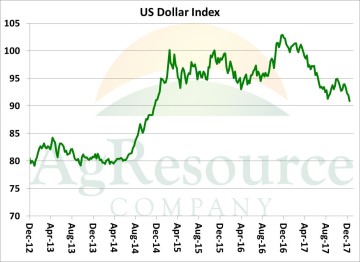 The USDA's January reports were another reminder that major crop stocks both in the US and globally are more than adequate. Combined US corn, soy and wheat stocks were raised 94 Mil Bu (2%) to 3,936 Mil Bu; combined world stocks were raised 2.5 MMTs (0.4%). Rising inventories will fundamentally-based rallies limited, but rather quickly we expect the market to shrug off the USDA's flood of new data, and return its focus to prevailing trends. Dryness in Brazil next week will be watched closely, and reports from the field in Argentina are far from ideal. Equally important will be the performance of major exporter currencies. The US dollar hit new multi-year lows this evening, and as an example recent strength in Russia's ruble has pushed interior Russian wheat prices to new seasonal highs at levels comparable to $4.20-4.45/Bu – such is the impact of currencies in the ag landscape. The point is that we urge caution in turning bearish on breaks, and instead range-bound trade should continue. Sales will be made only on rallies.
Corn:

  Dec 1 US corn stocks totaled 12.5 Bil Bu, roughly 50 Mil higher than expected and a new all-time record. Much of the boost is due to higher US production, which officially totaled 14,604 Mil Bu. Yield was raised to 176.6, while acreage was lowered 400,000. Sep-Nov feed/resid is calculated at 2,298 Mil Bu, a bit higher than last year, but this morning's data confirmed that domestic feed use is not growing enough to offset this year's surprisingly massive harvest. Quarterly stocks/use at 285% is not overly bearish relative to $3.50, spot, but there remains no real demand driver.
Higher than expected stocks warranted lite fund selling, but the USDA's changes don't materially alter the structure of the US grain market. USDA opted to lower its annual feed/resid number 25 Mil Bu to 5,550 Mil. Industrial use was raised 10 Mil. Stocks were lifted a modest 40 Mil Bu, and so more than anything this is yet another USDA report that confirms US end stocks of 2.5 Bil. Only S American weather can change this in the near to m medium term, and indeed the growing season there has been odd. Argentine production rightfully lowered 1 MMT, and some 75% of Brazil's crop is still in the bag. ARC's forecasts vary slightly from the USDA's, but we do mention acreage is more uncertain amid higher than expected wheat seedings and recent boosts to cotton prices and sorghum basis. Fair value is pegged in the long-established range of $3.45-3.65, basis spot.   
Wheat:
Dec 1 wheat stocks totaled 1,874 Mil Bu, also roughly 50 Mil above expectations, and were function of another disappointing quarter of feed use. ARC notes that NASS also revised its Sep 1 stocks number, and so Jun-Nov feed/residual disappearance now rests at just 115 Mil Bu, vs. 238 Mil a year ago. Rising wheat basis across the Plains is cited. However, like in corn, old crop demand didn't have a material impact on the US wheat balance sheet, but slightly higher stocks along with higher than expected acreage allowed for profit taking from recently established longs.
Annual feed/residual use was lowered to 100 Mil Bu, vs. 120 Mil in December. Seed use was lowered 4 Mil. Imports were also raised 5 Mil amid the pace of shipments to date, and so on the margin this morning's wheat data was no doubt price negative. 2017/18 stocks are pegged at 989 Mil Bu, vs. 960 a month ago. Using NASS's 2018 winter wheat seedings estimate (32.6 Mil, vs. an actual 32.7 Mil in 2017), ARC forecasts all wheat acres at 45.7. Adding higher carryover stocks, end stocks next year are estimated at 915 Mil Bu, vs. 860 Mil previously, and any acreage issue now will center on abandonment. The wheat balance sheet tightens assuming trend yield, but only slightly, and so the goal moving forward is to stay competitive in the global market. However, a bearish outlook is not advised amid strength in major exporting currencies – Russian interior prices have hit new seasonal highs this week. Downside risk in world cash markets is low.
And we view NASS's winter wheat data this AM as supportive on breaks, and note that it's really SRW seedings that exceeded expectations. HRW planted area is estimated at 23.1 Mil, down 500,000 from last year. SRW acreage is pegged at 6.0 Mil, up 370,000. White wheat acreage is up very slightly. Using NASS acreage data, normal abandonment and trend yield, it remains that stocks of higher protein classes will be in retreat, while lower protein stocks build further. KC's premium to Chicago should reach fair value at $.10-.20/Bu, and thereafter a close eye needs to be kept on drought expansion in the Plains. The major forecasting models this evening maintain complete dryness west of the MS River through late Jan. No new sales are advised, an end users should extend wheat/flour coverage below $4.25, basis March KC.
Soybeans:

  Mar soybean futures were languishing at a 21-week low prior to the release of the USDA's Reports and then closed up nearly 13 cents for the day.  Depending on how you look at it, today's action was either a "key reversal" (ending a 6-week down trend) and/or an "outside day up".  Similarly, the Mar soymeal contract gained $4.60 after setting 18-week low in pre-report trading. The soymeal contract, however, did not achieve an "outside day up". The laggard in the soy complex was the Mar soyoil contract which only manged to gain a measly .01 of a cent.
The USDA lowered its estimate of the 2017 crop by 34 Mil Bu.  The reduction was achieved by reducing yield by 0.3/Bu.  As a consequence of this cut in production, Dec 1 stocks came in at 3,157 Mil Bu, 29 Mil Bu below the average of industry expectations. However, thanks to a 60 Mil Bu cut in projected exports, ending stocks were raised 25 Mil Bu to 477 Mil Bu (vs last year's 302 Mil Bu).  The USDA's reduction in exports was more than we had expected. Although pace analysis clearly indicated that a cut in exports was overdue, the most that USDA had ever cut exports in the Jan WASDE was 70 Mil Bu (in 2006). As expected, USDA raised increased their estimate of Brazil's crop by 2 MMT to 110 MT (vs CONAB's 110.4 MMT and last year's record 114.1 MMT). Also as expected, USDA lowered the Arg crop by 1 MMT.
  Prices now hinge upon South American weather, which in turn determines the pace of Jun-Aug exports. Chart-based support has so far held though.