Brazilian Crop Report Analysis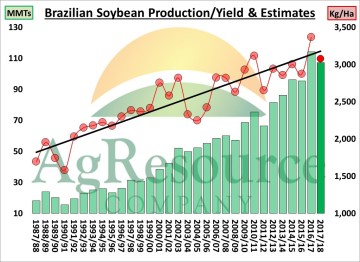 Brazil's CONAB released their October crop report featuring preliminary estimates for new crop soybean and corn production. For the October and November crop reports, CONAB offers ranges for area and production estimates, and then become more specific with their published forecasts in December.
 The October estimate projected soybean area in a range of 34.5-35.2 million hectares. The midpoint of the range is 34.8 million hectares and if realized would be a 3% increase in total soy area from 2016.
  Yield was conservatively estimated at 3,075 Kg/Ha (45.7 BPA), down 4.3 BPA from last year's record, and just below the 30 yr trend. CONAB's area and yield estimates offer a soy production forecast of 106-108 MMTs. Historically, CONAB has done good job estimating area, and changes to production have largely been the result of yield adjustments. The same should be true of 2017/18.  
  CONAB's first guess at new crop corn production rests at 93.6 MMTs vs. 97.8 MMTs a year ago, and the USDA's estimate of 95 MMTs. As expected, first-crop planting fell 8% to an all-time low 5.0 Mil Hectares. Assuming trend yield first-crop production is pegged at 25.7 MMTs, the lowest since 1997.
  It is noteworthy that safrinha production will account for a record 72% of Brazil's total corn harvest, only because weather can vary wildly beyond the middle of April, when the safrinha crop generally begins to pollinate. It's far too early to adjust safrinha yield from trend – and thus far too early to say much about Brazilian corn supply & demand in 2017/18. But there is more weather risk in winter Brazilian corn yields.
 Rain is desperately needed in Mato Grosso, Goias and Minas Gerais to advance soybean seeding.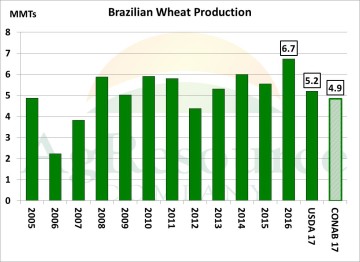 Also, CONAB lowered Brazilian wheat production by a modest 334,000 MTs to 4.9 MMTs, the lowest since 2012. Ongoing heavy rainfall is forecast in Rio Grande do Sul (which produces some 40% of Brazil's wheat crop), and looks to expand into Parana (which accounts for 50% of production) in the 8-15 day period. Further yield losses are probable and quality will be the major concern once harvest resumes in late October.
  CONAB in its balance sheet pegs Brazilian wheat imports at 7 MMTs, but ARC expects imports to reach as high as 7.5 MMTs. Argentina does look to supply all of Brazil's needs this year, but a re-shuffling of the world trade matrix lies ahead. Some in the trade are turning more pessimistic on Argentina's wheat crop as well. ARC does mention that excessive rainfall will reach into Northern Argentina beginning next week.