Cattle Called Firm on Expected Steady/Higher Cash Trade; Central US to Become Wet/Warm
** AgResource Daily Cattle Analysis: Cattle futures closed higher on Tuesday, and a firm outlook is offered for early trade this morning. June led the market higher and closed up more than $1. Feeder futures did not follow the live market higher, but most contracts were well over the highs at the close.
  Trade in the negotiated cattle market was again thin, and the bulk of this week's business is still ahead.
  The beef market finished sharply mixed on Tuesday with the choice value up $1.79 at a new high of $230.93. The select value was down $1.27, and the choice select spread finished at a $21 choice premium. The chart shows the spread holding above last year, and the highest in 10 years on strong demand for premium beef. While the beef market typically tops out in late May, the choice/select spread often does not  reach it's top until mid/late June.
  We see the cattle in a longer-term supply driven bear market. However, June cattle could trade to $110-112 on strong seasonal trends and the large discount to cash.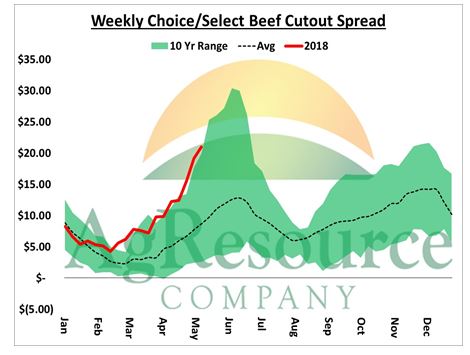 ** North American Weather Pattern Discussion: The EU and GFS models are in only fair agreement with their differences centering on rain amounts for the Plains and the Southern Midwest over the next 10 days. Our bet is that the GFS has a better handle on the US weather pattern with the forecast becoming active and wet. The Plains and much of the Midwest will see 1.5-4.00" of rain over the next 2 weeks which will be ideal for just seeded corn and soybeans, while starting a process of ending the 6 month drought in the Plains.
  Rapid drying noted of the Delta and the SE US in the next week, but some rain is expected to develop over the SE US next week.
 The extended range forecast places a Trough in the SW corner of the US which ejects storm systems eastward with regularity. These systems will keep the Central US well-watered over the next 2 weeks with big variations in temps. No lasting temp trend is evident as this remains a changeable and active overall North American weather pattern. Under this May pattern, our concern for a lasting Central US drought is reduced with good rains slated to drop across the Plains.
** GFS 10 Day Rainfall Forecast into May 19th; Wet for the Plains