Cattle Called Steady/Weak; Argentine Weather Features Weekend Rains
** AgResource Daily Cattle Analysis: Cattle futures closed lower on Monday, and a steady/weaker outlook is offered for early trade this morning. Last week's low in both April and June cattle held through Monday, but both contracts were near the lows of the day the close.  
  Beef cutout values were steady Monday morning, and mixed in the afternoon. The choice value was down $.24 at $223.90 and select was up $.23 at $217.49 on light to moderate demand and offerings. Cash markets in the Plains were untraded at the start of the week, and meaningful negotiations are expected to hold off until midweek, at the earliest.
  Packers bought 67,606 head last week, taking their total forward contract inventory to 1.797 million head. Contract inventory for April remains at multi year lows, while cumulative purchases are above last year for May-Aug, with packers buying nearly 3,300 head for June and more than 3,800 head for July last week.
  Key for early week trade is that last week's lows hold, or a deeper correction is expected to unfold on fund technical liquidation.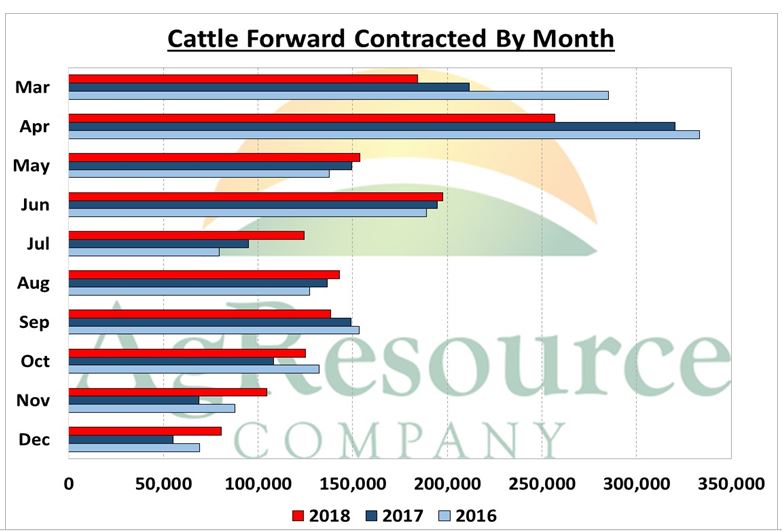 ** South American Weather Pattern Discussion: The GFS and EU forecast models are in better agreement this AM. Both models have shifted the coming rains farther south with the EU model increasing its coverage of rain into Central and Southern Argentina. The overnight forecast is wetter for Argentina, while maintaining the good chance of soaking rains across Southern Brazil in the next 10 days. And there are additional rain chances in the 11-15 day period which continues to suggest that a pattern change will be occurring slowly over the next few weeks. That change should help the new winter wheat to be planted, but it won't offer much assistance to summer row crops that have been suffering from 5 months of acute dryness/drought.
  The EU model 10-day rainfall forecast is attached. Isolated showers are due across Argentine ag areas on Thursday AM with more robust showers to occur on the weekend. Several cold fronts that pass from Saturday into early Monday look to produce .5-2.50" of rain across the northern half of Argentina. Rains across Buenos Aires look to range from .25-1.25". A few days of dry weather follows before fresh shower chances evolve late next week. Rains of .5-3.00" are also expected across RGDS in S Brazil.
** Improved Rain Chances for Eastern Argentina: