Cattle Called Steady/Weak: South American Weather Features NE Brazilian Ridge
** AgResource Daily Cattle Analysis: Cattle futures closed mixed on Thursday  and are called steady to a bit weaker this AM. Fund liquidation continues as
traders await today's USDA January update. Next week's On-Feed report should reveal yet another expansion in the feedlot herd. US carcass weights are large and weekly kill totals are expected to rise starting in late February.
  US beef price have likely confirmed a seasonal top with additional weakness expected next week as consumers seek cheaper meat cuts to pay off credit card bills from the holidays. The drop in beef is pressuring packer kill margins which likely will produce a slow decline in cash prices. ARC holds to a bearish outlook with lows expected in the June-July timeframe as cash cattle test $100-105.00 support.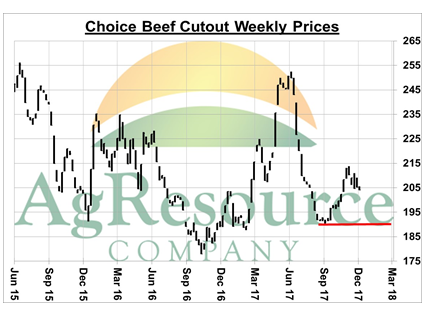 ** South American Weather Pattern Discussion: The forecast is little changed from previous runs. The two areas of concern are pockets of La Pampa & Buenos Aires in Argentina (both major corn/soy producing provinces), and N/NE Brazil, where climate guidance appears to be coming to fruition amid a lasting period of dryness. Its almost impossible to get no rain to fall in N Brazil in January, but the pattern is much drier than normal with temps starting to heat up. The EU model's 10-day cumulative rainfall outlook is attached.
  N Argentina will benefit from needed heavy rainfall, but amounts farther south will be reduced. Brazilian precip will be pushed incrementally westward in the days ahead.
  A new sort of pattern lies ahead as a strong high pressure Ridge is established aloft NE Brazil beginning early next week. This will block precip from E Mato Grosso, Goias, Minas Gerais and Bahia (roughly 35% of Brazilian soy production). This Ridge will be anchored there for at least the next 2 weeks. Whether the Ridge can hold this position will be closely watched in early February as soil moisture is in rapid decline.