CBOT Awaits USDA/CONAB Reports on Thursday: Traders Adjust Their Positions
** 6:30 AM CST CBOT Prices: July soybeans are unchanged at $10.2025, July corn is down .25 of a cent at $4.03, with July Chi wheat down 5 cents at $5.095.
 ** AgResource AM Grain & Oilseed Comment: Good Morning! The overnight CBOT trading session has been mixed with corn and soybeans trading either side of unchanged, while wheat futures trade lower.
  The USDA May Crop Report will be released Thursday (May 10th) at 11:00 AM CDT and traders are paring their market risk accordingly. The May WASD offers updated 2018/19 balance sheets for major US crops and the first look at 2018/19 world crop demand/stocks. The report is one of the most important of the year and helps define a longer-term market trading stance into summer.  
  CBOT open interest rose 3,616 contracts in corn and 6,498 contracts in wheat, while declining 3,481 contracts in soybeans.
  WTI crude oil futures have scored multi year highs overnight following President Trump's decision to end the US's nuclear deal with Iran and return economic sanctions. June WTI has pushed above $71.00/barrel this AM.
  A Tuesday White House meeting ended with President Trump announcing that the US could sell E-15 all year long – not just on a seasonal basis. Less known is what did US refiners get out of negotiations? There are suggestions that US ethanol exports will now qualify for RINs, but confirmation is lacking.
  The RINs for ethanol export scheme could be challenged under WTO as an unfair trade subsidy, and an announcement is likely being delayed. It would be highly unlikely that US refiners left the White House negotiating table emptyhanded, which has US ethanol producers worried. The pro-refinery EPA is likely to keep pushing for a better deal.
  NAFTA negotiations have slowed as the US has taken a harder line and its becoming increasingly unlikely that a mid-May deadline can be achieved. This deadline was self-imposed by the US so that the US Congress could ratify any revised trade pact before the US midterm election.
  Also, a worry is the coming Mexican Presidential election in July. US trade negotiators will continue to push ahead with the hope being that historically, these trade disputes are not settled until the final pressured packed minutes.   The Argentine peso is at a new low vs the USD this morning at 22.5:1. The rise in the Argentine Central Bank lending rate to 40% on Friday has not stemmed the peso decline. Argentine farmers are seeing/enjoying record corn, soybean and wheat prices in local currency terms. The Brazilian real continues to weaken to 3.56:1 adding an extra incentive for farmers to seed '19 soybeans
   Rain has fallen across the key wheat production area of Krasnodar; Russia and the weather models keep adding rain to the extended forecast. The outlook for winter Black Sea grain production is brightening amid the moisture.
  The GFS/EU weather models offer differing rain amounts for the Central US with the GFS being much wetter from Kansas eastward over the next 10-14 days.
There will be breaks in the rain allowing US farmers to advance spring seeding
 US trade tensions will cap CBOT rallies while traders adjust their positions for the USDA May Crop Report tomorrow. Choppy & sideways is the bet for today.
** Rains for Parana in Forecast Decline from prior Days: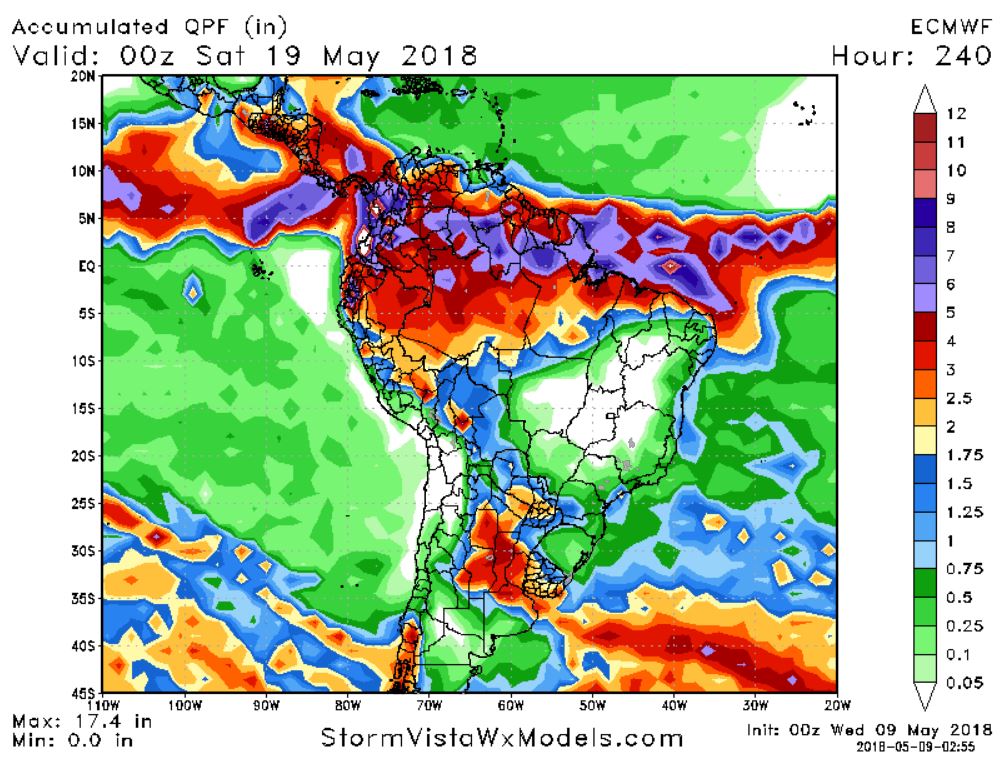 ** Improved Rain for Black Sea Wheat/Grains into May 19th: