CBOT Rallies on Fund Buying, Rains Are Better in Argentina and US Plains
** The funds have been hitting the green "buy" button this AM with corn, soybean and wheat pushing strongly upwards in morning CBOT trade. The volume has happened in 1,000 contract spurts, which argues that its fund buying. 
  Wheat, corn and soybeans held technical support on Monday and the late day recovery sparked the new round of fund demand this morning. Note that Monday's CBOT open interest showed that funds are still wanting in on the long side with a gain of 16,224 contracts of corn, 7,298 contracts of soybeans, and 9,702 contracts of wheat. Since their lows following the January USDA Crop Report, ARC estimates that funds have bought over 940,000 contracts of CBOT grain and soy. ARC has no way of knowing when the fund buying will be completed? A year ago, the fund demand ended in mid-February.
  One must wonder if funds will keep pushing the green button into the USDA Stocks and Seeding report on March 30th? Our advice is NOT to chase rallies like this morning with the CBOT overbought. Its late to be turning bullish of corn, soybeans or wheat with US seeding intentions unknown and the spring planting season just ahead. If this is a bull market, there will always be breaks that afford a better risk vs reward entry. 
** CBOT brokers estimate that funds have bought 8-9,000 contracts of corn, 4,500 contracts of soybeans, while being flat in wheat. In soy products, funds have bought 3,400 contracts of soymeal and 5-5,500 contracts of soyoil.
 ** The US dollar fell with the firing of Rex Tillerson, the US Sec of State. The Trump Tillerson Tweet started a dollar decline as another notable member  of the Trump Administration exits. Last week was Gary Cohen, this week Rex Tillerson, and the world wonders who will leave next week? The world struggles to understand US policy and the is high level departure raises fresh concern. Outside of the US, confidence in the Trump Administration is waning, which could further the USD's value.
 ** Brazilian corn prices have rallied along with the CBOT on tightening supplies. It appears that Brazilian farmers have the corn, but they are just sitting on supplies awaiting higher prices due to the Argentine drought. There continues to be talk that a few small cargoes of Argentine corn have been sold into Brazil for end users. Whether the purchases are to continue will depend on what Brazilian farmers do with their old and new crop corn stocks.
 ** India has imported 100,000 MTs of soybeans, a record with the supplies coming mostly from Africa, according to trade sources. The imports are occurring as Indian soybean/soy product prices surge. Indian soybean production ebbed to 8.3 MMTs in 2017, which is down from 11 MMTs in the year prior. The fall in production is likely to cause a further rise in cash meal.
** Midday South American GFS Weather Update: The GFS model is slightly wetter from its overnight run and like the EU model solution, showers are possible across the north on Thursday AM with totals of .5-2.00". The best chance of rain is on the weekend when several fronts crisscross the area with totals of .5-3.00" across the northern half of Argentina and .2-1.25" across the south. A few days of dry weather follow with some lite showers late next week. The extended range 11-15 day forecast offers another chance of showers/storms. Near to above normal rains persist across the northern half of Brazil.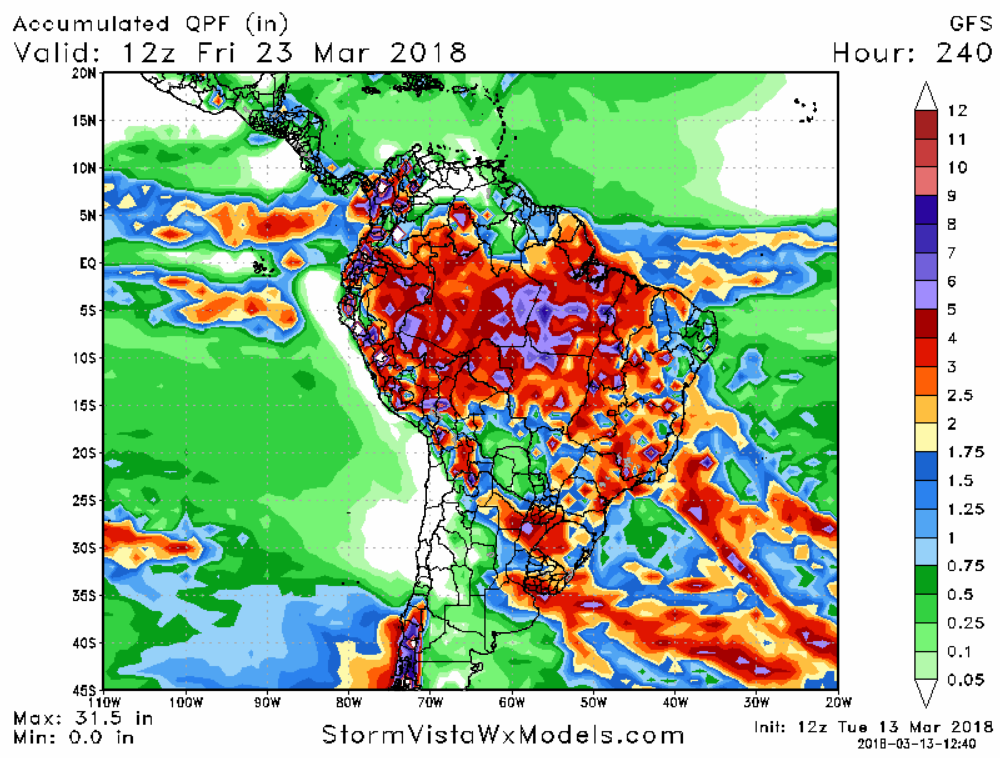 ** Midday GFS Plains Weather Update: There are better rain chances across the  Plains in the 6-10 and 11-15 day forecast than what was offered overnight. Rainfall totals range from .1-.6" with .25-1.00" in the 11-15 day period. The midday is wetter 
** Midday Market Comment: Our advice is not buy rallies or sell breaks as the CBOT tries to decide on its future direction. Rains across Argentina won't offer much yield assistance while the Plains rain could be a crop savior – if they occur in the next few weeks. May corn reached upside resistance at $3.95 while wheat prices have turn lower at midday.