Changes To Argentine Crop Estimates In March
Mar 6, 4:44 pm
|
|
Share this:
Following an extended period heat/dryness across the key soy growing regions of Argentina, the trade is fully expecting that the USDA will make more aggressive cuts to their crop estimate in the March WASDE report. The average estimate according to news wire service polls calls for an Argy soybean crop near 48 MMTS, 6 MMTs under the February forecast.
  The chart reflects that in the last 21 years, there have been just 3 years that the USDA has lowered crop estimates in March, the largest cut being 1.5 MMTs. However, unlike in previous drought years, they have been rather reserved in lowering estimates in Jan and Feb. In 08/09, the Feb crop estimate was already 6.7 MMTs under the Dec estimate, and was again lowered in March.
  In 11/12 the Feb estimate was down 4 MMTs from Dec, and was cut by another 1.5 MMTs in March. Our best guess is that the USDA lowers their estimate by 6-7 MMTs on Thursday, though the full extent of crop damage will not be captured until the June WASDE.

WASDE will update their world crop estimates on Thursday. A 6-7 MMT cut in the Argentine soybean crop would be a record March decline, though current dire conditions suggest that could still be on the conservative side. In February, the USDA lowered their yield estimate to 2.92 MTs/Ha, which was right in line with the 30 year yield trend. Looking back at the 2 most recent droughts, the national average yield fell 15% below trend in the 2011/12, and 30% below trend in the 2008/09 crop. Similar declines this year would result in a national yield of 2.50 and 2.06 MTs/Ha.   
  Assuming the USDA's harvested area forecast of 18.5 Mil Ha, final crop size under those 2 yield scenarios fall to 46 and 38 MMTs. However, it's worth noting that the USDA is using a harvested area of 18.5 Mil Ha, while the BAGE has estimated planted area at just 18 Mil Ha. Assuming the BAGE planted estimate and a spike in abandonment rates – it's very easy to come up with a crop estimates that is well under 40 MMTs!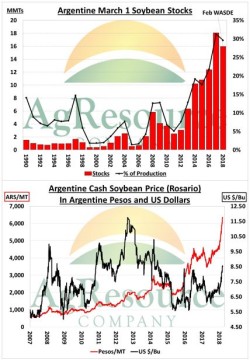 While new crop Argentine supplies are falling, the top chart shows that old crop supplies are historically large. The Feb WASDE estimated March 1 soybeans stocks at 16 MMTs, or close to 30% of last year's crop! Argentine producers began holding stocks in 2014 as the peso fell to new lows against the dollar. Cash soybean prices in Rosario this week are quoted at an all time high price of $6,350 ARS/MT. However, much of this strength is due to the domestic currency weakness. When converted to USD/Bu, this week's cash quote is $8.51/Bu and just barely above the 2015 and 2016 highs. With their crops continuing to roll back in size, Argentine farmers are not selling. Producers know that much of the world is relying on their meal supply, and are waiting for higher prices. At today's exchange rate, a soybean prices need to rally another 18% to get to USD equivalent of $10/Bu, and 39% to get back to the 2012 high of $11.70.