Chinese Soybean Imports in February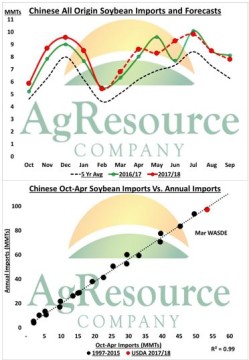 ** Chinese Imports Seasonally Slow In February: Preliminary Chinese trade data was released on Thursday, but was glossed over by the WASDE and Brazilian crop reports. Chinese customs data showed a monthly import total of 5.42 MMTs for February, slightly below last year and a larger than normal seasonal decline. The sharp break was likely due to the New Year holiday occurring in February this year. Based on weekly export shipment data, we estimate a March import rate of 6.8 MMTs, followed by an April import total of 8.6 MMTs. If realized, the marketing year import total by the end of April would stand at just over 53 MMTs, or nearly 4 MMTs increase (8%) over last year. The USDA has held their annual import forecast at 97 MMTs, and the lower chart (which includes Mar and Apr estimates) that the current pace of trade is right on track to reach their forecast. We expect that forecast to remain static into much later in the year. 
** Soymeal Stocks Decline Post New Year Holiday: Soybean crushing rates have kept pace with the record large import rate, and ahead of the New Year holiday the cumulative crush total was up 14% year over year. The weekly crush was down sharply through the holiday week, and was only 75% of average last week for a weekly total of 1.4 MMTs. The back to back weeks of light operations pulled weekly meal stocks down to a 13 week low, but back in line with the 5 year average. But on return from holiday, Chinese markets needed to adjust to world soy markets that had rallied sharply during the week. Cash meal prices jumped nearly 5% last week, which also lifted estimated soybean crush margins to the highest level in more than a year. This looks to keep processor demand up as large tonnages of both US and Brazilian soybeans arrive in the coming weeks.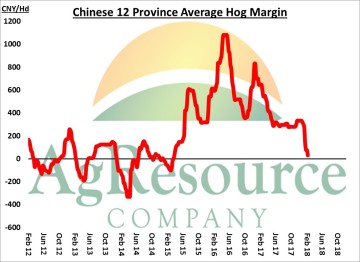 ** Estimated Chinese Hog Margins Plunge In Early 2018:  While soybean imports for crush demand appears extremely robust, the one area of concern within the domestic Chinese market is in hog sector. Domestic cash hog prices have fallen precipitously since the start of the year, with price quotes this week down 26% from the January high and nearly 30% less than a year ago. The chart shows that the drop in market hog values, along with rising feed costs has squeezed estimated feeding margins back near break even levels for the first time in 3 years, with several provinces showing losses for the first time since early 2015. Monthly estimates of Chinese hog inventories have shown a contracting hog herd every single month since Dec 2013, and hog changes inventories have had no measurable relationship to domestic feed demand. This has called into question the accuracy of the government's estimates. However, the drop in price and the fall in hog margins will be watched for any changes in feed demand in the coming months.