Chinese Soybean Imports In October
The preliminary trade data from China that was released on Wednesday showed October soybean imports were up slightly from a year ago, and the largest import figure for the month, at 5.86 MMTs. The complete trade data will be released later in the month, but the US and Brazil are each known to have exported over 2 MMTs in the month of September. US exports jumped sharply through October, while the Brazilian export pace slowed. However, the Brazilian export pace has held above last year, which has limited the potential for early season US export totals. The October WASDE was about 1 MMTs too low on old crop Chinese soybean imports, and could reasonably raise the forecast for new crop imports by 1-2 MMTs, based on the October import and early season crush totals.
6 weeks into the 2017/18 crop marketing year, the Chinese crushing industry has not offered any indication that it is slowing down. Last week's crush rate was estimated at just over 1.8 MMTs, slightly better than a year ago and the cumulative crush total to date is estimated at 10.3 MMTs versus 9.6 MMTs a year ago. Estimated Chinese hog producer margins are below a year ago, and down from the early year highs as market hog prices have declined. However, estimated margins are still very profitable. While Chinese hog inventory data has proven to be very unreliable, record large soybean crush rate and decline in estimated soymeal stocks, looks to be reflecting very strong feed demand. The sharp drop in market hog prices in the last year also appears to be confirming improved hog numbers/pork production.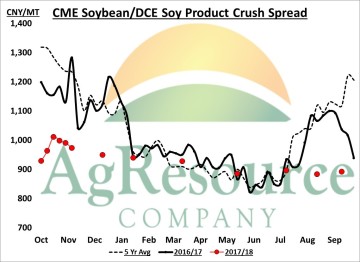 Chinese soymeal prices bottomed last May and then steadily traded higher thru the summer. Today, spot soymeal prices are nearly 8% over the spring low.
  However, both soymeal and soyoil values are trading well under a year ago, while US soybean prices are nearly unchanged! This is concerning.
 The chart shows the CME soybean/DCE soy product crush spread, or an estimate for profitability of buying US soybeans today and selling soy products in China next month. Note that while the spot spread has started the year well under last year, it has not impacted either crush or import totals. Moreover, forward margins offered for the spring and summer months are giving Chinese soy crushers the opportunity to lock down paper profits that are near both last year and the 5 year average. This should keep China active in world soybean trade.