CONAB's January Crop Report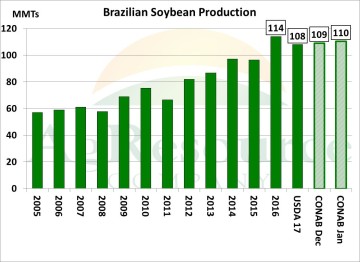 CONAB raised its Brazilian soybean production estimate to 110 MMTs, vs. 109 MMTs in December, a move that was largely expected. The USDA has been steadfast at 108 MMTs, which is simply a function of trend yield. The USDA tends to wait until Feb before making any real changes, though it's possible USDA will follow CONAB in tomorrow's report. There haven't been any real weather issues to date, aside from the crop developing later than normal following delayed seedings. Of note, however, is the lack of any real change to acres. It was expected that, amid a decline in first-crop corn seeding, soybean area would be closer 35.5-36.0 Mil Hectares, vs. CONAB's 34.99. With planting now complete, Brazilian soy acreage is more or less set, and weather in late Jan/early Feb is key – and will monitored more closely now that climate guidance maintains pockets of well below normal precip in C and N Brazil into February. ARC views Brazilian production at 109-112 MMTs a neutral, as its surplus will be in decline from a year ago.
CONAB raised Brazilian corn production 100,000 MTs to 92.3 MMTs. This is based on fractional increases in first-crop area and yield, but does little to change to the overall balance sheet. And CONAB's corn numbers will be rather unexciting in the next 2-3 months, as the safrinha corn won't be planted until mid/late February or perhaps even early March. For the safrinha crop, CONAB maintains record area (12 Mil Hectares, up 15% from last year), and a near record yield of 5.5 MT/HA. We have no problem with such numbers as of yet, but it is important to note that safrinha corn in 2018 will account for a record 73% of Brazil's total corn crop. Much more pressure has been placed on a timely pace of soybean harvesting, and also rainfall and temps in the Apr-Jun period.
Safrinha corn yield can't be adjusted from trend until mid-spring or so, but the crop is no doubt risky. The graphic below shows rainfall in Brazilian state of Mato Grosso (which by itself accounts for 40% of safrinha production), and displays how wildly variable rainfall can be there beyond winter. The wet season typically winds down beyond the latter part of April, though in recent years rainfall has been extended into May, or even June. Drought in 2016 triggered a 18 MMT downgrade to Brazil's crop (relative to CONAB's Feb report), but ARC points out that Apr-June rainfall of 3" or less isn't that uncommon. Even Brazil's weather pattern in the near term is important as maximum soil moisture is desired at the end of February.
  The point is that next year's global corn surplus is very much unknown. And the risk isn't so much a crippling drought in Brazil, but rather a corn crop of 85-88 MMTs, which will bode well for US exports beyond Jun/Jul.