Corn Pauses Rally; Fundamentals Unchanged
Feb 13, 2:10 pm
|
Corn
|
Share this: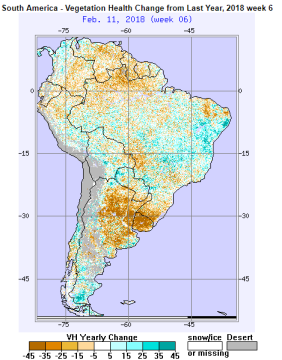 A very modest Turnaround Tuesday was noted in CBOT corn futures, but downside risk is tough to find and Argentina's drought looks to worsen, not improve, over the next days. Updated vegetation health compared to last year is attached, and ARC notes that there are no longer any other categories to express worsening drought. Much depends on the size of Brazil's safrinha crop, but in the meantime the US can expect to be a major exporter into early/mid-summer.
  Crude has also drifted lower in recent days as US producers respond to higher prices, and record US crude production is likely in 2018. Future ethanol margins have been capped as a result, but as the US cash ethanol market falls we expect it to find even more export interest.
  Cool temps across much of the C & N Plains are sustaining enlarged feed demand, and until La Nina is comfirmed to fade by early summer we view breaks as opportunity for end users to extend supply coverage.