Corn Rallies Slightly; Argentine Weather Concerning
Jan 19, 4:57 pm
|
Weather
|
Share this: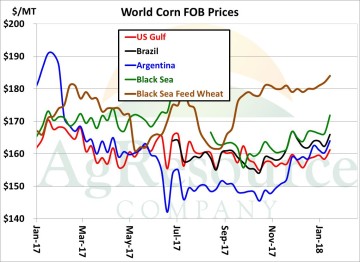 March corn ended a penny higher and thus settled above its 50-day moving average. Argentina has been dry all season, but increasingly the establishment of La Nina looks to maintain dryness and mild heat through pollination. The two-week forecast lacks meaningful rain, and ARC's climate work suggests coming dryness is likely to extend into early February. Early planted corn in Argentina is rated at just 11% GD/EX. Even later planted corn is pegged at a disappointing 12% GD/EX. Yield loss is near certain at the crop pushes through reproduction.
  US export sales were a much improved 74 Mil Bu, and world grain prices also continue to move upwards. Black Sea feed wheat is offered at a new seasonal high $184/MT. And somewhat surprising is the recent surge in Black Sea corn basis, from $.65 over futures to $.85 this evening. US Gulf corn is still the world's cheapest origin, and amid delayed crop development in Argentina should remain so into the middle part of spring.
  Managed funds on Tuesday were short a net 227,000 contracts, and are still short in excess of 210,000 today. New bearish news is needed to push March below $3.45, and we remain patient in extending and old or new cropp sales.