Grains Follow Crude Lower; GFS Wetter in Argentina
Wheat futures have found support amid a much weaker US dollar, but row crop markets continue to drift lower. Dec corn has found new contract lows as delivery approaches, and another day has passed without any new soybean sales announced by FAS. Exporters did sell two cargoes of corn to an unknown destination this AM though. The wheat market in particular since 2016 has weakened into first notice day, then rallied through the delivery period. Interior corn basis across the Central Plains and Western Midwest remains 30-40 cents below futures.
There's no one major piece of bearish news available, but rather it appears to be a risk-off day in raw materials. Crude is down $1.20/barrel at midday, and spot crude's chart looks a bit vulnerable to additional selling. Commodity indexes are down roughly 1%. Even US equity markets are weaker.  
There is talk that US shale production is set to rebound substantially following multi-month highs in crude and gasoline prices.
The EIA late Monday suggested shale production will increase by 80,000 barrels/day in December, and the theme is that US production will work to partially offset OPEC's ongoing production cut. The EIA's weekly energy report, released Wednesday mornings, will be watched closely for a second consecutive build in US crude inventories?
Amid weakness in crude, Russia's ruble is at yet newer lows for this move, as has the Brazilian real, and one prevailing theme is renewed questions of emerging market growth. Recall that weak currencies, on paper, raise producer revenue there and thus sustain acreage expansion. World cash wheat prices seem to have hit a wall at $196/MT, basis Russia, and now replacement costs there are falling due to currency weakness.
Abnormally warm temps (5-7 degrees above normal) will persist across the whole of the Black Sea region. The lack of freezing waterways will keep a solid pace of export shipments intact. The US forecast maintains near complete dryness beyond the coming weekend in all regions, and US corn/soy supplies available to the market will peak in late Nov/early Dec.
Overall, like Monday, there's just not a lot of bullish news available to restrict new fund selling. Funds combined short position in wheat and corn today is inching ever closer to the record posted in 2016, but so far the spec community seems comfortable with these rather large bearish positions.
Midday GFS South American Weather Update: The midday GFS maintains a very active pattern of rainfall in Central & Northern Brazil over the next weeks, which is in line with a host of climate outlooks. The coverage of heavy rain in Brazil expands beginning this weekend, and accumulation next week is pegged as high as 3-6" in Goias – which has been very dry – Minas Gerais and pockets of Mato Grosso. The GFS has also introduced regionally beneficial rainfall to Argentina late next week, but as no other model includes this Argentine precip, additional runs are needed to boost confidence.
  ARC is paying more attention to Argentine dryness, which is favorable in the very near term, but is worth watching as La Nina looks to have been established this week.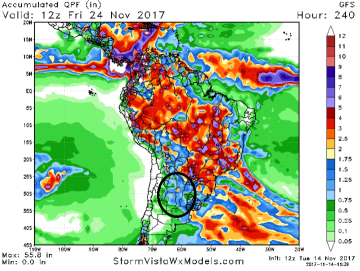 AgResource Market Comment: US markets need to sustain demand through profitable margins, and this AM's weakness in energy markets is being digested. No sales are advised at current prices, but a South American weather issue is needed to turn bullish. Note that South American won't have a direct impact on yields for another few weeks.