Hogs Rebound on Cheap Grain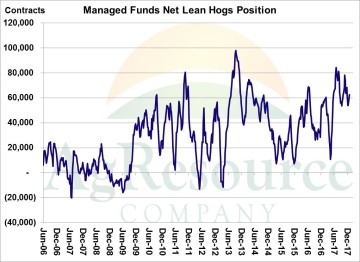 Feb hogs rallied $.78 today amid weaker corn prices and as the USDA again confirmed an abundance of US corn & wheat, and again raised US soybean crush to a record 1,950 Mil Bu. Futures also found support just above 20-day moving averages, and fund longs aren't quite willing to give up on recent profitability.
  Estimated pork production this week rests at 522.5 Mil Lbs, vs. 508 Mil on this week a year ago, and this suggests a fairly noticeable rebound in official slaughter and production lies ahead. Meanwhile, bitterly cold temps look to be sustained over the next several days across the N Plains & Upper Midwest, likely affecting transportation. The cash market over the next 2-3 weeks will be watched closely, as signs of fundamental market weakness will trigger yet more profit taking. Managed funds as of Tuesday were net long 62,000 contracts, right at expectations, but up roughly 10,000 contracts on last year. Use any test of $84+, basis June, to extend forward sales.