La Nina & US Winter Wheat Production
Jan 9, 4:39 pm
|
Wheat
|
Share this: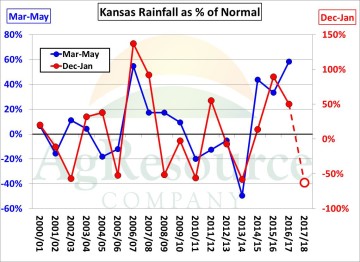 Virtually no precip has fallen across the US Southern Plains, including KS and pockets of NE since the middle of autumn. And another two weeks of complete dryness is likely. This, along with bitterly cold temps, has put a bid under HRW wheat prices in recent weeks. ARC notes that winterkill will likely never be fully quantified, but dryness is always more of a concern. 
  NOAA's drought forecast released in December, which leaned heavily on La Nina's arrival, has so far proven correct. While current weather is not impacting wheat yield directly, there does appear to be a correlation between winter and spring precip. Dec-Jan precip (red line) and May-May precip (blue) is displayed at left. Assuming latest model runs verify, KS precip in Dec-Jan this year will be 60% below normal. The odds that drought continues into spring have been elevated.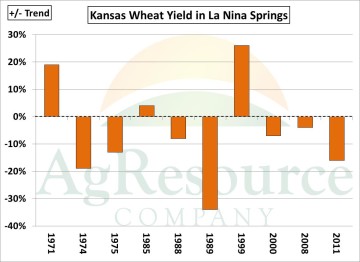 Dryness also appears to a bit more structural in nature amid the development and deepening of La Nina. Latest ENSO model forecasts suggests that a weak to moderate La Nina will persist into the later part of spring, thereby including a majority of winter wheat's critical growing stage.
  The attached graphic simply isolates years in which La Nina was established in the month of May, and should ENSO forecasts prove correct obtaining trend wheat yield in the Plains could be difficult. Or, rather the odds of meeting/exceeding trend yield are noticeably reduced. Wheat yield in KS has been below trend in 7 of the last 10 La Nina springs, and yield exceeded trend significantly in only two of those years. It's far too early to bet on drought, but measuring probabilities 45-60 days ahead of the end of dormancy is important.
Ongoing large carryover HRW stocks will buffer against any major crop problems in 2018, but without normal rainfall this spring HRW stocks look to be half of what they were in 2016. The table above presents the US HRW balance sheet using various yield/abandonment scenarios. ARC simply wishes to highlight the risk of multi-year low HRW stocks — particularly as planted area is likely to be down another 400-600,000 acres. World prices will largely hinge upon Black Sea production, but will the US wheat market be required to slow domestic feed and export demand in 2018?