Malaysian Palm Oil Update
**  Malaysian Palm Oil Production Declines On Seasonal Considerations: Malaysian palm oil data that was released on Monday, showed January production at 1.59 Mil Lbs, down 13% from December, but 24% more than a year ago, and the largest January production figure in 5 years. The monthly output figure was also at the top end of expectations, and also the 2nd largest January production total on record. Malaysian production has been able to build on last year's recovery from the drought 2 year aog, and cumulative production for the year is now 7.4 MMTs and the largest on record. The USDA estimates that total annual production will be up 9% from a year ago and also expected to be record large at 20.5 MMTs. February production is expected to be lower due to seasonal production trends, but monthly production figures from March forward, should not only improve, but hold well above last year.
**  Larger Than Expected Exports Support Palm Oil Futures: While the January production figure was at the top end of expectations, palm oil futures rallied following the report release as monthly export figures were also above expectations. January exports counter seasonally increased to 1.5 MMTs, or an 18% increase over a year ago. The seasonal decline in production and the better than expected export total resulted in a monthly stocks draw down from December, though the end of January stocks total was still the largest since 2012 and 2nd largest January stocks figure on record.
  The price relationship between US soyoil futures and Malaysian palm oil futures have narrowed in recent weeks, with palm trending higher as soyoil slipped to multi month lows. Key for both markets in the upcoming months will be the impact that the Argentine drought has on it's soybean crop and processing rates in the year ahead.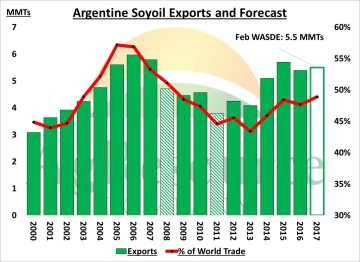 ** Argentine Soyoil Significance For World Market: All eyes in the CBOT soy trade have been trained on Argentina and whether widespread, drought busting rains will fall and limit crop losses? Market concerns have been directly telegraphed through the soymeal market as spot futures broke out of a long term consolidation pattern and traded at the highest price since July 2016. However, the significance of Argentina's production in the soyoil market should not be forgotten. Though the 3rd largest soyoil producer (behind China and the US) Argentina is the world's largest soyoil exporter, and often accounts for nearly half of world trade. The USDA's Feb estimate had Argentina penciled in for exports of 5.5 MMTs or 49% of world trade. The 2 previous droughts are highlighted in the chart, which cut exports by 19% in 2008 and 17% in 2011. A similar decline this year would mean near 1 MMTs of world demand that could be shifted to other countries or vegoil alternatives.