November WASDE Livestock Price Forecasts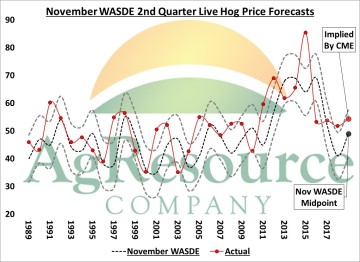 The November WASDE report featured modest changes to pork production and price forecasts for 2018, and no significant adjustments are expected until the January report when the December inventory data will be available. For the 2nd quarter of year, the USDA estimates pork production at 6,390 million pounds, a 4% increase over 2017 and the largest 2nd quarter production figure on record. This will also mark the 8th consecutive year of industry expansion for the quarter. The USDA's price forecast for the quarter was also unchanged from October at $47-51 live, or down nearly $3 from 2017. CME hog futures on the other hand are still more optimistic, and this week are offering producers a 2nd quarter average live price equivalent near $54, slightly better than a year ago, and similar to the last 3 years.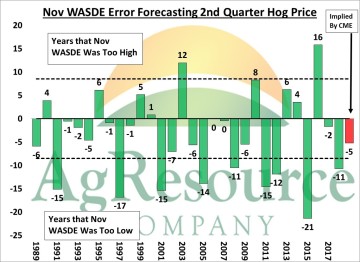 The chart plots the historical error of the USDA's 1st quarter price forecast in the November WASDE. Since 1989, there has been a strong tendency for the USDA to underestimate price in November. In 21 years (70%) the USDA under estimated price by an average of $7.90/cwt, and over estimated price in 9 years (30%) by an average of $6.86/cwt. The largest miss was for 2015, when the forecast was too low by $21. On average, the November forecast can expected to be within $7.60 of the actual average price.  Based on the USDA's track record for projecting 2nd quarter hog prices in November, and an outlook for record large production, producers should be ready to start making 2nd quarter hog production sales as the CME nears nears the extremes. Sales are advised on a further $3-5 rally in Apr/May/Jun hog futures to target a 2nd quarter average cash sale of $77-80 lean.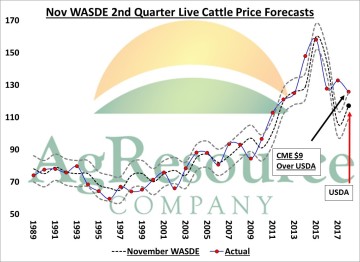 In the beef and cattle forecasts, the USDA pared back the 4th quarter production forecast but retained the outlook for record large beef production, and expectedly raised the price forecast for the 4th quarter to $117-121. However, quarterly production forecasts were raised for all 4 quarters of 2018. For the 2nd quarter, the USDA estimates commercial beef production at 6,930 million pounds, which was a 2% increase from the October estimate, and if realized would be an 8% increase for 2017 and a record large figure for the 2nd quarter. The USDA raised their price forecast by $3 to $112-122. Historically, there has not been a strong tendency for the USDA to either over or underestimate cattle prices, and typically the November forecast can be expected to be within $8 of the actual price. Note in the chart that the CME today is offering cattle feeders an average near $125 (assuming average basis). Based on the outlook for record large production, cattle feeders should look to make sales against the 2nd quarter on any late year rally.