U.S. Medium-range Forecast
 Medium-range 6-10 Day Forecast Valid February 18-22, 2018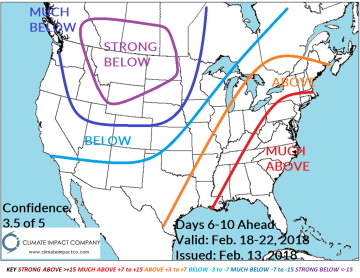 Medium-range 11-15 Day Forecast Valid February 23-27, 2018
Days 6-10/11-15 commentary: In the 6-10 day period the GFS and ECM ensembles are averaged to produce the forecast result which remains the tale of 2 (cold and warm) regimes. In the 11-15 day period the pattern remains unchanged although with slightly less amplitude.
Extended-range 16-20 Day Forecast Valid Feb. 28-Mar. 4, 2018
Days 16-20 commentary: The cold pattern is more focused on the western U.S. in the extended-range.
Excessive precipitation ahead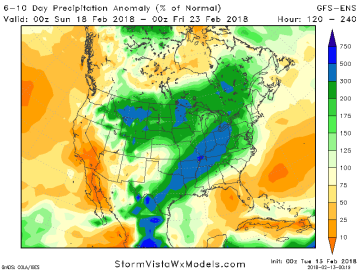 Commentary: The boundary in-between a cold West/warm East thermal regime is enhanced by MJO influence to produce excessive precipitation the remainder of February for the Central/East-Central U.S. Indicated are the percent of normal precipitation outlooks by the GFS ensemble for days 6-10/11-15 ahead.