U.S. Medium-Range: Less Cool/Wetter Trend Great Plains
Apr 16, 7:03 am
Highlight:  The U.S. Chill Breaks.
Medium-range 6-10 Day Forecast Valid April 21-25, 2018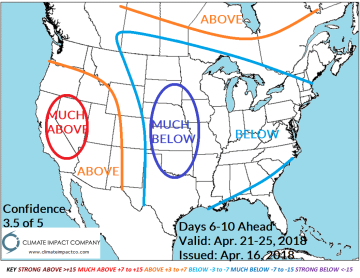 Medium-range 11-15 Day Forecast Valid April 26-30, 2018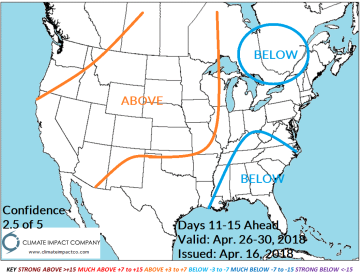 Discussion: The cold pattern begins to lose its punch later in the 6-10 day period. The 11-15 day forecast trends somewhat warmer over-the-weekend with marginal cool lingering East.
Extended-range 16-20 Day Forecast Valid May 1-5, 2018
Discussion: Warmth is marginal and shifts to the Great Plains.
Climate Impact Company Medium-range Precipitation Forecast
Discussion: Wet weather is welcome over the southwest Great Plains drought area in the 6-10 day period. Heavy rain is possible in the Mid-Atlantic. In the 11-15 day period the Southeast is dry while the Northwest/North-Central U.S. is wet.