US Ethanol & DDG Consumption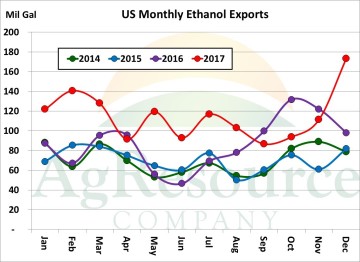 Ethanol and ethanol by-product exports remain a critical part of the recent boost in US grain prices. ARC has mentioned before that finding foreign export markets ultimately raises the US blend wall, which for so many years has been a simple function of gasoline production. But with other countries embarking on biofuel policies, and amid very competitive US ethanol prices, the US ethanol industry has produced the biofuel at a record pace, and well above expectations, in the last two years. Census US ethanol exports in December totaled 173 Mil Gal, up 62 Mil (56%) from November and a new record for the month. Official ethanol exports in 2017 were 1,379 Mil, also a record, and weekly data suggests that demand for US origin continues amid lofty Brazilian prices – which as of this week maintain a 35% premium to US Gulf origin.
Cumulative Sep-Jan corn used for ethanol production rests at 2,345 Mil Bu, also a record and up 2% from last year. Despite this, DDG prices in recent weeks have been rallying, which in turn boosts actual ethanol production margins, and also suggests strong demand for US feed products. Cattle on feed rest at a 6-year high, which along with rising minor feedgrain and wheat basis, indicates that the boost in animals numbers is having a measure affect on price. The US DDG market, in spite of losing China altogether, has found new markets and has sustained a solid pace of exports. US DDG exports to all destinations in December totaled 970,000 MTs, up 10% on November and up 12% on December of 2016. Jan-Dec exports are little changed from the previous year, and notice that China's interest has evaporated.
Spot cash DDG prices across Western Midwest have hit new 18-month highs this week, and also rest above the price of corn on a metric ton basis. Already cash corn prices were well below the price of wheat, sorghum (until this week), barley and oats, and now corn is even better positioned to find better domestic consumption. Gulf corn is also the cheapest feedgrain in the world through June, and its discount to South American & Black Sea origin is widening. The issue ahead is that, though it's taken years, cheap corn prices have worked to build a fairly strong pillar of demand. This makes current drought conditions more noticeable, and fundamentally we view downside risk as being severely limited into early summer. Rain is needed across the Plains and W Midwest but perhaps more importantly South American surpluses won't be available to the world market until after July. This has not been just a short covering rally.