US Ethanol Market Update
Jan 10, 4:59 pm
|
Corn
|
Share this:
The pace of US ethanol production has fallen dramatically, but only in recent weeks, and a noticeable rebound is expected into late Jan as US temps warm. NASS in early January pegged corn used for ethanol production in the month of November at 476 Mil Gal, a record for the month and nearly a record for any month. December's data is fully expected to be an all-time record, and despite a correction in January the pace of US ethanol production is still more than adequate to meet the USDA's 5,525 Mil Bu forecast. Assuming ARC forecast, total Sep-Jan corn used for ethanol is estimated at 2,360 Mil Bu, up 3% from a year ago. The USDA's annual forecast is up just 1.5%. Rising global energy prices, and lofty ethanol prices in Brazil will largely sustain a record overall pace of production into next year's corn harvest.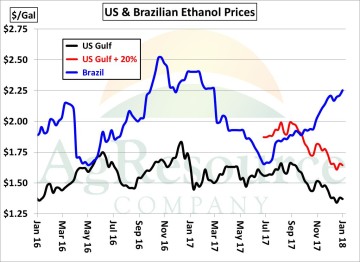 Newswires this morning reported that Brazilian ethanol imports in 2017 were a record 1.82 Billion Liters, more than double the previous year. In spite of a decent sugarcane harvest, Brazil's ethanol market still appears rather tight. The recently passed 20% tariff on imports from the US have seemingly had no effect on trade, and will not likely have much of an effect over the next quarter or so. Gulf ethanol cash prices, like futures, have found new multi-year lows, but this is attracting demand. The graphic at left shows the difference between Brazilian and US origin ethanol, and the current Gulf discount of 39% more than offsets costs associated with the tariff. Weekly non-domestic disappearance continues at a record level.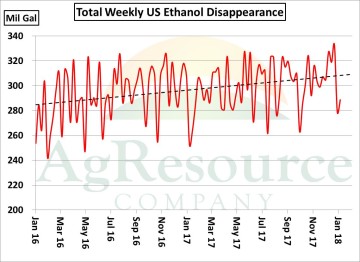 Total US ethanol demand is also rising as energy markets tighten. Blending since late Dec has been disappointing, but again this is likely due to bitterly cold temps and a lack of miles driven. When adding blending and exports together, US ethanol disappearance has been trending higher since the middle of 2016. Basis futures, gasoline's premium to ethanol this evening rests at $.51/Gal, the highest since 2013 and compared to just $.04/Gal on this day a year ago. Gasoline inventories as of last Friday totaled 237 Mil Barrels, down 1% from last year, and as crude stocks continue to decline the need for domestic ethanol blending will be stout. There's more than enough corn in the US & globally, but as demand has been found via cheap prices, any sign of adverse weather looks to be more significant in 2018.