US Soy and Grain Exports in October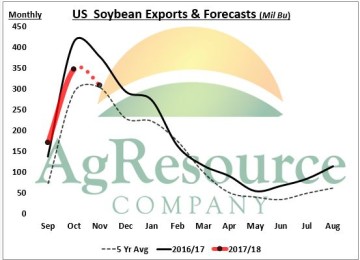 The December International Trade Report with US trade data for October, showed total US soybean exports for the month at 345 Mil Bu. This was the slowest October export total in 3 years, and nearly 19 Mil Bu less than had been reported earlier in the month by the USDA's FGIS Monthly Inspections report. It's not uncommon for the official data to fall short of the USDA's count, in fact a year ago the Census data was more than 13 Mil Bu under the monthly inspections data. What is concerning for the US export program is that the weekly inspections data suggests that November exports were down 11% from October. The markets this week are focused on S American weather, but the current pace of soybean exports makes the USDA's current annual forecast of 2,250 Mil Bu tough to defend. The USDA is not likely to lower S American production estimates next week, but is expected to bring down their old crop US soybean export forecast. Short S American crops are needed to justify keeping a large US soybean export forecast, which will ultimately be determined by Argentine/Brazilian weather over the next 60-90 days.
US corn export shipments continue to lag. Official exports in October totaled 107.3 Mil Bu, down 31 Mil from September, and 36 Mil below October of 2016. Using weekly FGIS data, ARC pegs Census corn exports in November at 105 Mil Bu, again well below last year as well as the pace needed to hit the USDA's target (175 Mil Bu/month). ARC does mention that just this week the US Gulf market is priced at parity with Argentina, and so along with Argentina US corn is the world's cheapest feedgrain. And world barley prices remain around $190/MT, a full $40/MT above the price of corn, which is unique to this year. Forward corn sales have been better, and ARC has no major disagreement with the USDA's forecast just yet, but exceeding 1,950 Mil requires severely adverse weather in South America – and most likely adverse weather in Brazil during the Apr-May period.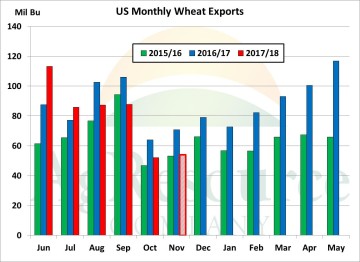 Census US wheat exports in October totaled just 52 Mil Bu, the lowest of the season so far, down 12 Mil Bu from a year ago. FGIS data suggest any real improvement will be delayed until early 2018, with exports in November pegged at 54 Mil Bu. Notice in the graphic below that US wheat shipments are highly seasonal, and there's no doubt the Oct-Feb period is typically pretty weak. And, like corn, the US Gulf market has fallen to levels that are competitive with comparable European origin, and there's not likely much downside risk in high protein cash prices as supplies dwindle in N Europe, and as Australia's harvest will be at/below 20 MMTs, vs. 35 MMTs last year. Unfortunately, it's just that US wheat exports have performed poorly so far, and the window for improvement demand should be limited to Jan-April.