US Soybean and Grain Exports in December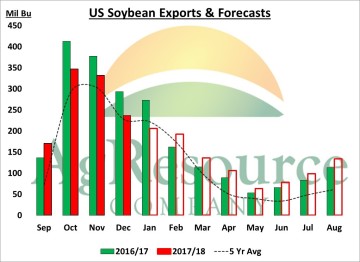 ** Total Soybean Exports Above FGIS; Imports Ahead Of Last Year: The February International Trade Report with data for December, showed that the US exported just over 237 Mil Bu of soybeans during the month. The figure was down 56 Mil Bu (29%) year over year, but was 14.7 Mil Bu larger than what had been reported last month by the USDA's Federal Grain Inspections Service.
  AgResource estimates an annual soybean export program of 2,100 Mil Bu, or slightly less than a year ago. The February FGIS report showed a January export count of 206 Mil Bu, and due to the slower export totals through the 1st 5 months of the year, we expect the US will see stronger exports in the last half of the year on expanding Chinese livestock feeding and crush demand. The US imported 2.3 Mil Bu of soybeans in December, and have imported close to 8 Mil Bu for the year versus 6.6 Mil Bu last year. The current import pace is slightly ahead of whats needed to reach the USDA's 25 Mil Bu forecast, but we doubt that they make any significant changes to the estimate until later in the year.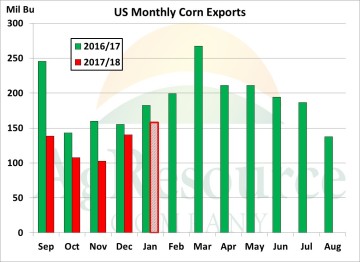 Corn Exports Well Above Expected: Official US corn exports in December totaled 140 Mil Bu vs. 155 Mil in Dec of 2016, but they were also well above expectations. ARC notes that Census exports through December are some 16% above weekly FGIS inspection data, which is unusually high. There's a growing body of evidence to suggest the USDA's 17/18 US corn export forecast are too low. Cumulative sales account for a rather large 66% of the USDA's forecast (vs. 58% on average as of early Feb), and most importantly US Gulf corn is still the cheapest feedgrain in the world – and by a sizeable margin. Daily sales announcements are occurring more frequently, and should remain a feature into spring. Official January corn exports are forecast at 160 Mil Bu, and improved weekly shipments are expected into summer.
 ARC views the position of US corn in the world market as being equally critical as US/S American weather, and the point is that US corn is cheap even at $3.60, basis spot CBOT futures.
   US 2017/18 corn export estimates should rise by 25-50 Mil Bu in coming WASDE reports which will subtract from large end stocks. Corn enjoys a brief demand led bull story.  
US Wheat Exports Also Better than Expected: Census US wheat export in December totaled 81 Mil Bu, slightly higher than expectations and marginally higher than December of 2016. Assuming FGIS data, Jan exports are pegged at 70 Mil Bu, little changed from a year ago, and so cumulative wheat exports are gaining on last year's pace. In the months ahead there looks to be a dichotomy between a bulging Russian surplus but also a plunge in Southern Hemisphere exportable supplies. Currently the US market is now priced to boost its share of world trade, but neither is there any compelling evidence to suggest the USDA will lower its US export forecast. World trade through January has been better than anticipated, and the USDA is likely to raise total world wheat exports, but also leave its US annual forecast alone.
  Focus is shifting quickly towards new crop supply & demand, and the potential for another sizeable cut in US HRW end stocks – and whether HRW production is 710 Mil (trend yield, normal abandonment) or closer to 590-600 Mil, which is reasonable if the Plain's drought persists.