US Soybean and Grain Exports In November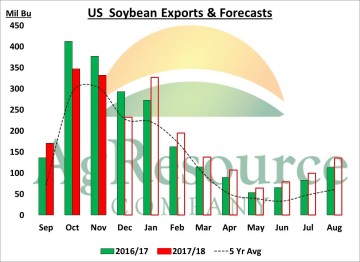 The January International Trade Report with data for November, that was released on Friday showed a total US soybean export rate of 332 million bushels. The figure was inline with what had been reported in early December by the USDA's FGIS, but was also 45 Mil BU less than a year ago. Monthly data for December has not yet been released, but the weekly inspections data is suggesting that December exports were 70% of the November total. The chart shows monthly estimates based simply on seasonality, that are needed to reach the USDA's December export forecast. Note that monthly totals need to be above a year ago every single month from January forward, if the USDA's targets are to be reached. The trade anticipates soybean production near unchanged from November, while stocks are expected to increase as the USDA lowers their export forecast.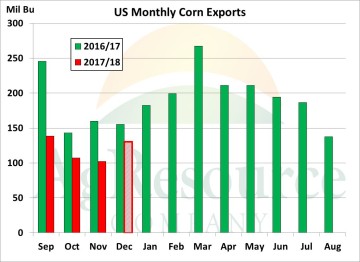 Official US corn exports in November totaled just 102 Mil Bu, little changed from October, but well within expectations. Using FGIS weekly data, AgResource estimates US corn exports in December at 130 Mil Bu. Notice the clear seasonal trend in actual US corn export shipments. Cumulative Sep-Dec exports are pegged at 478 Mil Bu, down 30% from last year and also account for just 25% of the USDA's' forecast – a rather low figure. When isolating shipments (not sales) pace analysis suggests the USDA's forecast is 25-50 Mil Bu too high, and a downward revision is possible. However, caution is warranted, and we doubt the USDA will be aggressive in making any cut. Note that even the old crop global corn trade matrix now hinges more than ever on Brazil's safrinha crop (which in 2018 will account for a record 70% of Brazil's total harvest), and that crop won't even be planted until late February. WASDE will remain cautious to cut US corn trade.
Census US wheat exports in November totaled 54 Mil Bu, little changed from October and down 17 Mil from a year ago. December US wheat exports are estimated using FGIS data at 72 Mil, and like corn there's a strong seasonal trend for US wheat export shipments to rise into the end of the marketing year. Jun-Dec exports are calculated at 552 Mil Bu, down 6% from last year, but a rather normal 57% of the USDA's forecast. Including sales, total wheat export commitments stand at 715 Mil Bu, a typical 73% of the USDA's forecast. The USDA will neither raise nor lower its 17/18 US wheat export target in January. However,
the Russians continue to export wheat at a record pace and they should be able to ship out 35-36 MMTs in the crop year. Moreover, the EU farmer will have to become more aggressive to sell its cache of stored wheat. The US export pace looks to ease in the months ahead by another 20-40 Mil Bu. US wheat has to stay competitive in world trade.